Online Korean manhwa, also known as webtoons, is increasing in popularity not just in Korea but all around the world. Mature adult webtoons have seen the biggest traffic. Lezhin Comics offers a wide selection of Korean mature adult webtoons in English. These mature adult webtoons are similar to hentai but have a much stronger plot. As the demand for adult webtoons increased, many skilled manhwa artists moved into the adult webtoon space. Therefore, it was difficult to find the best Korean mature adult webtoons for 2022. However, with Lezhin Comics' help, we narrowed the list down to 10.
The Rise in Queer/BL Adult Webtoons in Korea
Queer/BL (Boy Love) adult webtoons are surprisingly very popular in Korea. What might be even more surprising is that straight Korean females are the main readers. In addition, many queer webtoon authors are female. Most queer adult webtoons focus on homophobia or discrimination of queer people in Korea. These forms of homophobia come from family, friends, or coworkers. Therefore these queer webtoons offer more serious content that is also educational. Therefore many queer/BL webtoons have overwhelming fan support. Many fans have expressed that queer/BL webtoons helped them understand sexual minorities and overcome their prejudices. You will find a few queer/BL webtoons on the list, and we recommend you try them.
Painter of the Night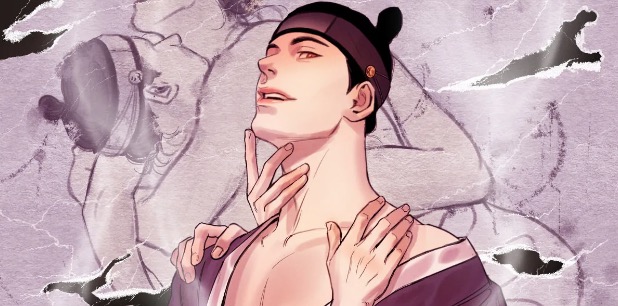 One of the most popular adult webtoons out of Korea, Painter of the Night is the biggest title on Lezhin Comics right now. The story follows a talented young painter, Na-kyum, in feudal Korea. He is very shy yet determined with a big heart. Once renowned for his erotic male paintings, Na-kyum has since quit painting. That is until a young nobleman named Seungho comes into his life and demands more paintings. For which he is more than happy to pay and model. This webtoon's art style sets it apart from the others. In addition, the character of Seungho is one of the more in-depth characters around. He loves power and sex, and it is difficult for a reader to cheer for or hate him. 
The art style is unique, and the expressions on the characters and the coloring of the webtoon really separate it from the rest. It is a great representation of lust and love in historical times while also showing the social power structures and value systems of people in Korea during that time.
Genre: BL/Historical
Story: 9.5/10
Art: 10/10
Violence/Gore: 3.0/10
Sex/Nudity: 10/10
BJ Alex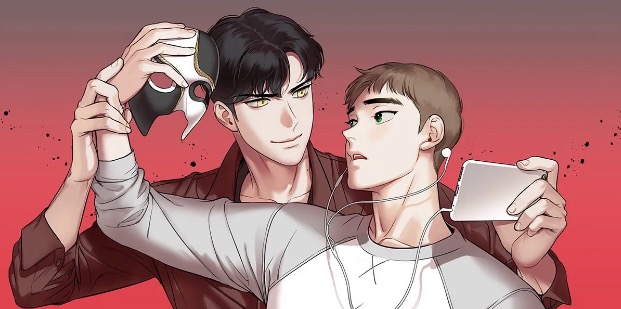 Dong-gyun spends his days in class and nights behind a locked door watching his favorite cam boy streamer, BJ Alex. Alex is a very shady character who takes advantage of Dong-gyun sexually. Alex uses his celebrity power to control Dong-gyun who obeys Alex's commands. Soon the balance of power shifts as Alex develops strong feelings for Dong-gyun. What started off as purely a physical relationship (sex partners) has the potential to develop into something more. 
Once you understand the character's backstories, the webtoon is very easy to get into. While many feel the story is too predictable, the characters are what many readers like about BJ Alex. The characters are always exciting and really go into detail about how the characters went from a purely physical relationship to something more.
Genre: Romance/BL
Story: 8.5/10
Art: 9.0/10
Violence/Gore: 4.0/10
Sex/Nudity: 9.5/10
A Man of Virtue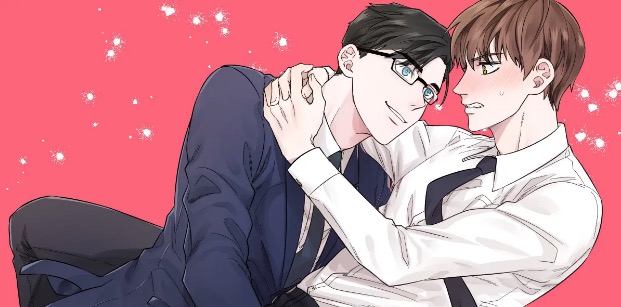 A Man of Virtue is about Nam Jinwoo. He spends his whole life coming in second place at everything. From school competitions all the way to his work life, Ma Sangtae has always been able to run faster, be smarter, and take the initiative. Basically, Jinwoo hates Sangtae. He has been living in the shadow of Ma Sangtae, his whole life. It started off in High School, then on to College, and now at the office. And as we all know in these comics, hate turns to lust. The lust turns when Jinwoo finds himself cursed with the dirtiest, most erotic fantasies of Sangtae. He can't control these fantasies because they are not his fantasies, but he is convinced they're Sangtae's fantasies. 
For those looking for a bit of humor in their adult webtoon, A Man of Virtue is for you. It is a lot of fun and cute while still having NSFW graphics. The first five chapters of this Manhwa are free on Lezhin, and for those that pay for the whole thing, I can promise a lot of really touching moments about relationships, adulthood, and most of all, coming to terms with your sexuality.
Genre: Romance/BL
Story: 9.0/10
Art: 9.5/10
Violence/Gore: 2.5.0/10
Sex/Nudity: 9.5/10
Talk to Me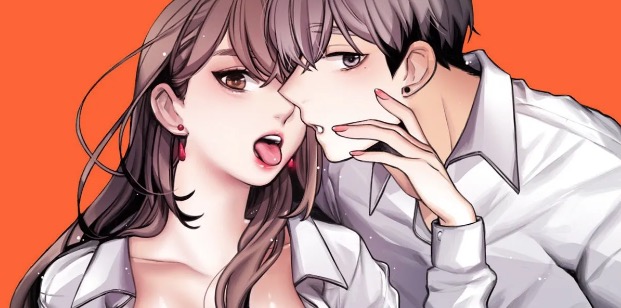 Talk to Me is about Raeyim, who has it all. She's beautiful, smart, classy, and has a wonderful boyfriend. And it's not by accident, no. It's by careful design and management of her reputation. No one would suspect she spends her nights watching porn and wanting something more… from sex. I mean, her boyfriend's fine and all, but she doesn't want him to ask if he should go down on her. Everyone considers Raeyim to be the purest girl ever to walk the earth. This adult webtoon is cute, fun, and, most of all, sexy. You will get a deeper insight into a woman's mind and see female sexuality and their desires/lust openly and without reservations. 
For those who don't like a lot of drama in their adult webtoon, Talk to Me offers a series where couples explore interesting sex ideas such as BDSM, Roleplaying, Vibrators, phone sex, etc. Therefore the series does not have a lot of smut and remains healthy and non-toxic. Add this to a well-written storyline, and you have the top non-BL webtoon on this list.
Genre: Romance
Story: 9.5/10
Art: 8.5/10
Violence/Gore: 2.0/10
Sex/Nudity: 9.0/10
Love is an Illusion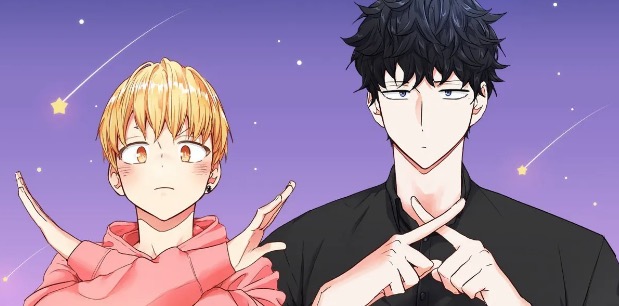 Ask any fan, and they'll tell you the Omegaverse is weird. As Lezhin Comics' first English language foray into the genre, it's… intense. Hye-sung has been convinced he's an Alpha, the top of the food chain. But everything goes sideways when he realizes he's actually an Omega! After this revelation, he continuously crosses paths with Dojin, an Alpha who can't stand Omegas. In addition, in the Omegaverse, Omegas can give birth. That's right, guys can get pregnant. 
The art here is in color and amazing. Then you add in the roller coaster of emotions you will feel for the characters, and you have one great adult webtoon. Many might be turned off by the almost non-consensual sex scenes, but the book's second volume is even better than the first.
Genre: Romance/Omegaverse/BL
Story: 9.0/10
Art: 8.0/10
Violence/Gore: 4.0/10
Sex/Nudity: 9.0/10
Love Shuttle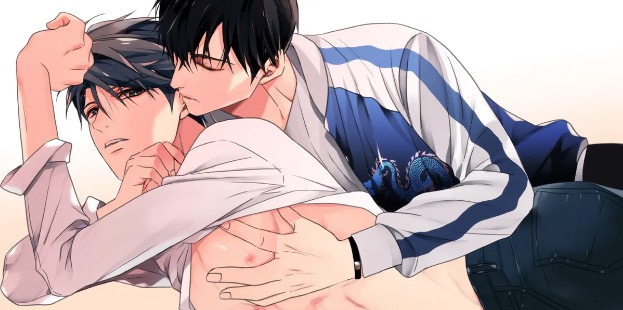 From the acclaimed author and artist of An Easy Target comes Love Shuttle. Doyun is tall, handsome, and absolutely beautiful. Everyone assumes he's an Alpha, but he's actually an Omega; he's just never gone into "heat" before. He is considered a late bloomer, and his body is ready to bloom; all he has is his work rival, Taehan. Taehan is more than happy to take advantage of the situation and offer his *ahem* "help." Taehan is a more likable Alpha than most traditional Alphas and is the most interesting character in the series. 
This is one of the few omegaverse webtoons that does not contain an abusive relationship. While the artwork is not the best, the story has a lot of comedy to it while also being steamy.
Genre: Romance/Omegaverse/BL
Story: 8.5/10
Art: 8.0/10
Violence/Gore: 1.0/10
Sex/Nudity: 9.5/10
An Innocent Sin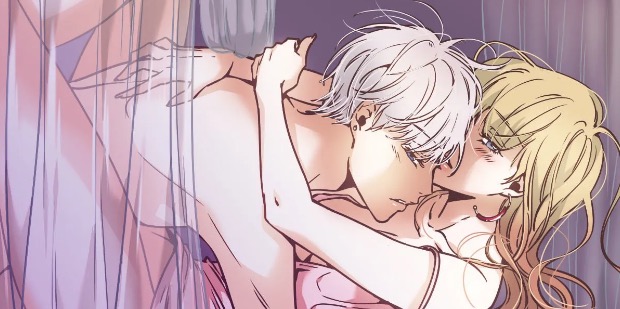 Adult webtoon An Innocent Sin is about Nayeon, who is on the last train home when she finds herself alone on the train. What's a girl to do? She takes a minute to "enjoy" herself until she realizes there's actually a man on the train! Calmly, he approaches her and offers his business card… "Peach Puff?" Slowly, Nayeon embarks on a path to discovering her own sexuality and everything it can entail.
The story can get a bit depressing and is suited for mature readers only. This is the Manhwa version of Fifty Shades of Grey.
Genre: Romance
Story: 9.0/10
Art: 9.0/10
Violence/Gore: 4.5/10
Sex/Nudity: 8.0/10
Sign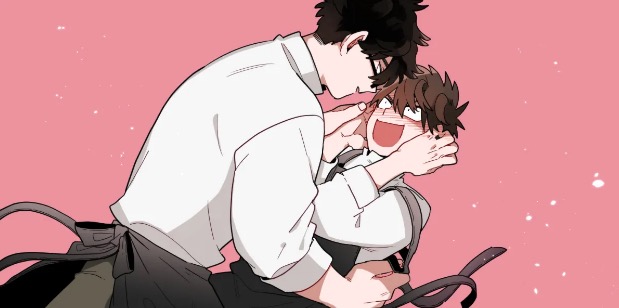 A few things to know about Cafe Goyo: first, their coffee sucks. Second, never order off the menu. And third, the manager, Yohan, is deaf. So when Soohwa starts as a part-timer, he's not expected to make good coffee. Instead, he's expected to learn more sign language beyond "higher," "pay," and "please." But when Yohan offers to give him private lessons, Soohwa is reluctant. Not because he doesn't want to study, but because he has a "hard" time around Yohan. Like, literally. He gets hard. Whenever he hears Yohan's deep, sexy voice. The webtoon overall offers a wide range of cute characters with lots of fluffy sex. The story is limited, but those that enjoy a little comedy in their smut will enjoy Sign. 
This adult webtoon is loaded with sex, and the story does not really pick up until the later volumes. The characters lack personality, and there is almost no development. However, those that like saucy sex scenes will love Sign because every update would just be a sex scene with no story.
Genre: Romance/comedy/BL
Story: 7.0/10
Art: 8.0/10
Violence/Gore: 3.5/10
Sex/Nudity: 9.5/10
Killing Stalking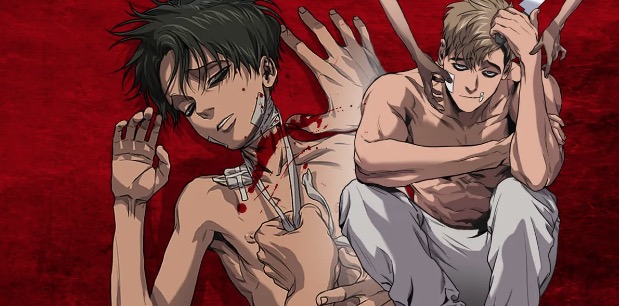 Koogi's dark epic came to a close in 2019, bringing closure to a story that's had readers gripped for three intense years. Killing Stalking is a graphic adult webtoon about Yoon Bum, who is a quiet and intensely scrawny boy with a crush on Sangwoo, one of the most popular guys at school. Yoon Bum doesn't want Sangwoo to know of his profile creeping for fear of being labeled a stalker. His obsession peaks when he breaks into Sangwoo's home. He makes his way to the basement, where his dreams of Sangwoo are broken into something darker. And bloody. The webtoon does not offer a positive portrayal of homosexuality. Yoon Bum is seen as an obsessive stalker who spends the vast majority of his time trying to break into the home of a man he doesn't even know yet loves. 
This is for sure only for mature readers as it deals with rape, abuse, and Stockholm syndrome. It is by far the darkest, most disturbing/depressing webtoon around and shows just how well the author was able to convey these emotions through the art and a captivating story.
Genre: Dark/Horror/Thriller
Story: 8.0/10
Art: 8.5/10
Violence/Gore: 8.0/10
Sex/Nudity: 8/10
Love or Hate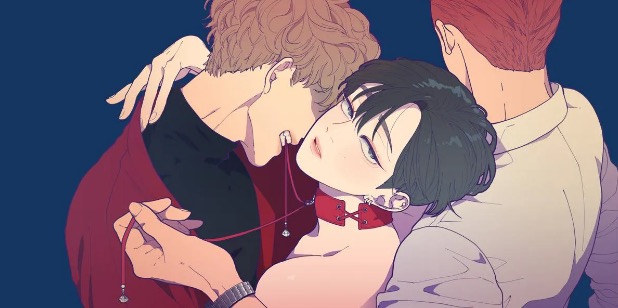 Love or Hate is a mature adult webtoon about Haesoo, who is the cynical writer of a romance column, while Joowon, his former stepbrother, is a famous actor. The two go way back – thrust together when their parents remarried; their relationship is far from simple. Brothers? Friends with benefits? Soulmates? Or nothing at all? Theirs is a delicate balance between lust and loathing, dating and breaking up, irritation and infatuation. When the mysterious photographer "K" takes an interest in Haesoo, events begin to spiral out of control. As the lines between art and reality become increasingly blurred, what direction will this story take? Cheap romance? Sensual erotica? Or something much more twisted?
For those that love a juicy love triangle storyline, Love or Hate is for you. The main character is very complex, and the relationships in this are real and hardcore.
Genre: Romance
Story: 8.0/10
Art: 9.5/10
Violence/Gore: 6.0/10
Sex/Nudity: 9.0/10
Not interested in Mature Korean webtoons? We have a list of the top Webtoons on Lezhin Comics too!