If you ever rode the Seoul Metro you will see that most Koreans are on the mobile phone. Moreover, the increase in mobile gaming in Korea has a lot to do with COVID-19 as more and more people have stopped going out. Over half the Korean population plays mobile games in South Korea. In fact, mobile gaming surpassed console gaming and PC gaming years ago. South Korea is the 4th largest mobile game market in the World after China, the U.S., and Japan. It is estimated these mobile gamers in Korea will spend around $6 billion on mobile games. This is why so many gaming companies all around the world want to enter the Korean mobile gaming market. However, in order to succeed, one must understand the gaming culture in Korea. This is one of the key advantages that Korean mobile gaming companies have over the world.
Lineage W
Lineage W is one of the hottest mobile games in South Korea. It is a massively multiplayer online role-playing game by NCSoft. As you will notice Lineage dominates this list. Lineage W is the 5th major installment of the Lineage series. It uses many of the elements from Lineage and Lineage II. The mobile game is available in 12 countries and regions including South Korea, Japan, Southeast, and the Middle East. It will be released for Nintendo Switch and PS5 in 2022.
Publisher: NCSoft
Odin: Valhalla Rising
One of South Korea's top mobile games is Odin: Valhalla Rising. It is an MMORP game developed by Lionheart Studio. In July of 2021, Odin became South Korea's #1 game in terms of revenue. The game adapts the worldview and history of Nordic mythology. Kakao Games holds a majority controlling stake in Lionheart Studio
Publisher: Kakao Games
Lineage 2M
Korean mobile game Lineage 2M is one of the top mobile games in Korea. It is a 3D fantasy MMORPG mobile game. It is based on the popular online game Lineage 2. Players explore an open world with over 10,000 players who they can fight. There is a wide range of classes and races. Players can fight or have the gameplay for you. It has some of the best graphics out there for mobile games. The storyline is fully voiced and takes place 150 years prior to the events of the original Lineage. The key aspect of Lineage 2M is its unique skill tree system. Instead of gaining skill points with each level, players gain SP (separate from XP) which can be invested in the skill tree for new abilities.
They have recently added a new cross-server dungeon. The new update will allow players around the world on different servers to gather for play on a single battlefield.
"There will be no games in the next few years that will be able to technically follow Lineage 2M," said CEO of NCSoft, Kim Taek-Jin.
Publisher: NCSoft
Lineage M
Lineage M would be #1 on our list of the Top Korean mobile games if the list was solely based on all-time revenue. It is a mobile fantasy MMORPG where players create a character by choosing from a variety of classes. Players can level up and unlock special skills and abilities. Gamers can fight mobs and play the game themselves or play using the auto-combat system. The game has a transformation system that allows the players to evolve their character for a short period of time. During this time they can unlock special skills and abilities. The game is old and has a very nostalgic feeling for many Koreans.
"Our goal is to allow users to be completely freed from both time and space limitations," said the Managing Director at NCSoft, Lee Sung-gu.
Publisher: NCSoft
Genshin Impact
Genshin Impact is a free to play action-RPG that is filled with immersive graphics, challenging gameplay, and is often compared with Legend of Zelda: Breath of the Wild. The game offers daily quests and monthly events to give you a chance to get loot (shards) for your characters. You will have to navigate the vast open world called Teyvat. The main goal of the game is for your character to find your lost sibling cursed and trapped by an unknown god. As you progress through the game you will unlock more characters and will be able to control them. Each character has its own unique characteristics and attributes.
Publisher: Cognosphere
Blade & Soul: Revolution
Korean mobile game Blade & Soul: Revolution is an MMORPG based on the popular Blade & Soul online game. Players can customize their characters which are realistic. In fact, the whole game itself has great graphics during its cutscenes and battles. The voiceovers are in Korean and the gameplay is partially automated. It is a martial arts MMO where you have the option to play as one of 4 character types (inspector, warrantor, historian, and technician). There are over 30 weapon types to test out with the characters.
Publisher: Netmarble
기적의 검 (Miracle Sword)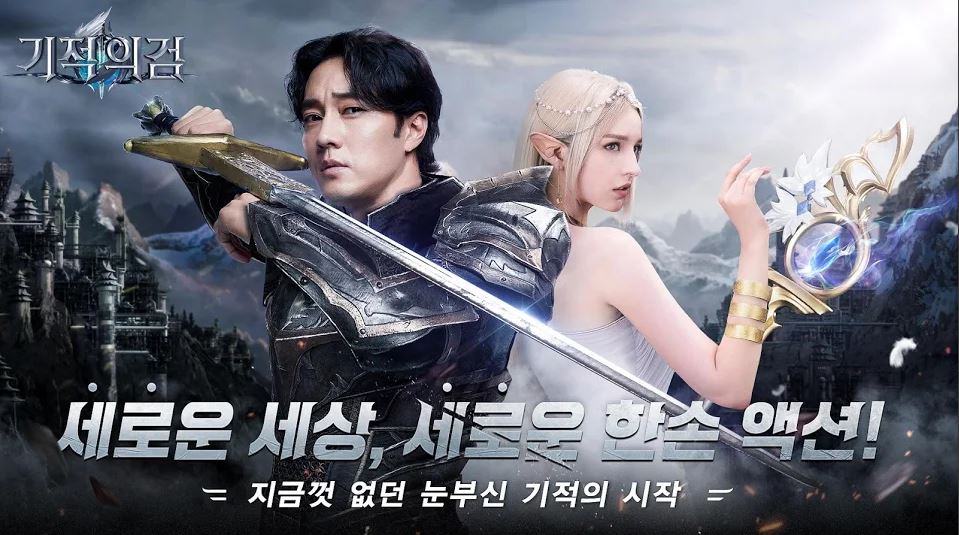 Miracle Sword is an action fantasy role-playing game with a famous Korean actor named So Ji-sub. Players fight many wars to gain territory.
Publisher: 4399 Korea
Cookie Run: Kingdom
Cookie Run: Kingdom is a mobile base-building RPG that offers a sheet pan of over 64 unique characters on fresh adventures. There are over 250 levels! It uses a gacha system where crystals are the currency.
Publisher: Devsisters
V4
V4 is a Korean MMORPG that needs a strong smartphone to play. It boasts high-end graphics for its vast virtual combat fields and character customization features. The good news is that there is a normal mode, a quarter mode, and a free mode that you can set yourself. It has an open world that is in real-time. You can select from a wide range of characters which you can also modify. Characters collect items, complete quests, and upgrade. In addition, VR adopts the "inter-server" system. It allows players to interact with others on different servers. This can be achieved via the commander mode. Therefore, guild leaders can look at a map from a top-down perspective and give orders to their guild members more efficiently. V4 supports six languages including German, Thai, and English.
"During the past two years, the developers have tried to figure out the needs of users who enjoy playing multi-player RPGs. I believe there is something special that can be experienced only in RPGs and it cannot be replaced with other genres of games," said the CEO of NAT Games, Park Yong-hyun.
Publisher: Nexon
Lineage 2: Revolution
Lineage 2: Revolution is a sin-off of Lineage 2. It is a mobile MMORPG that has a huge campaign with lots of places to explore. It has dungeons and a PvP arena to battle other players. Like many other games, it lets the player automate the questing. As you level up your characters you will be able to unlock interesting modes like PvP battles and Dungeon raids. This is the perfect game to play if you don't want to fully concentrate on it. The game pretty much plays itself. The fun comes when teaming up with friends at a party or joining a clan and questing together.
Publisher: Netmarble
HONORABLE MENTIONS
Rise of Kingdoms
Rise of Kingdoms was originally known as Rise of Civilizations. Chinese gaming publisher Lilith Games are the publisher of Rise of Civilizations and it has been doing very well in South Korea. It is a mobile strategy game where players have complete control over their empire as the governor. They have to expand their city, work with other governors, and unlock new technologies along the way.
Players can choose from 8 civilizations: Korea, Japan, Britain, France, Spain, Byzantium, Ottoman, Arabia, and Germany. They have real historical figures as characters such as Julius Caesar, Joan of Arc, and even Korean military leader Eulji Mundeok. Combat in the game is very simple. Players just select the target the game takes care of the rest. Based on your army, you are given a score and that score determines the battle's result. Joining alliances is crucial to growing in the game. You can get military aid, research assistance, and even share in the rewards. Koreans love this mobile game because it is a very casual mobile gaming experience for a strategy game. The perfect game to play on the Seoul Metro.
"We partnered up with the acclaimed composer Christopher Tin to bring an epic orchestral musical score that draws you into the historical experience even more," said Project Manager at Lilith Games, Alexandra Zhang.
Publisher: Lilith Games
AFK Arena
AFK Arena offers great automated gameplay through a system that keeps playing for you while you are offline. It is an RPG game that is set in a world called Esperia. It has been plagued by Hypogeons which is an evil force that wants to bring destruction. You need to gather your troops and move across the land as you fight Hypogeans. The game itself plays like a regular RPG with real-time combat. It has an auto-battle feature that does a good job of clearing stages and beating enemies. You use 5 heroes arranged in a formation of 2 units in the front and 3 in the back. Strategy comes in the formation and positioning of both defense and offense. ARK Arena has over 60 unlockable heroes, which you can obtain from the game's summoning system.
Publisher: Lilith Games
Brawl Stars
Brawl Stars has now passed Clash Royale in Korea. It is a free-to-play mobile shooter that adapts team-based multiplayer shooters for mobile. It is both a battle royale game and a MOBA (Multiplayer online battle arena) game combined into one. Think of this game as Fortnite but for mobile and a whole lot less complicated. For example, one of the modes will put you in a battle arena with other brawlers until only one is left standing. It even has a poison cloud that shrinks the arena. However, matches on Brawl Stars only last a few minutes. It has a top-down view with easy-to-learn virtual controls. As you accumulate trophies, more play options will emerge.
Publisher: Supercell
Clash Royale
Clash Royale can best be described as a collectible card game that meets a real-time strategy game and a MOBA. Players can arrange their deck with 8 cards. Each of these cards has a hero with special abilities. You can only have 4 cards max in your hand at one time. You use elixir, a recharging energy bar to summon cards onto the battlefield. In addition, each card has different levels of energy requirements. The object of the game is to attack your enemy's towers from either of the two lanes provided. Games typically last 3-5 minutes. Clash Royale rolls out new characters every few months and is always updating the game through balance updates to keep the game competitive. Clash Royale can even be played on a desktop. Here is a guide on how to play Clash Royale on Mac.
Publisher: Supercell
Black Desert Mobile
Black Desert Mobile is the mobile version of the popular Korean MMORPG game Black Desert Online. The interface is basically identical and when you create your character, many of the same classes and general cosmetic options are available. Players start with their choice of five different classes: Ranger, Witch, Warrior, Valkyrie, or Giant. Then you can customize your character as you see fit. The mobile game will then run you through a tutorial section where you can learn the ins and outs of the game. There is a main quest with many side quests. Along the way, you will need to gather resources and fight monsters. You can work with other players to fight dungeons where you can get items like new weapons.
Publisher: Pearl Abyss
Gaming Culture in South Korea
The gaming culture all starts at the PC Bang (Local LAN gaming center). You can't go a few blocks in Seoul without seeing at least one PC Bang. This is where most Korean students go after school. The benefits of a PC Bang are their fast internet connection, access to drinks and snacks, a wide range of game selections, and the ability to play next to your friends. Much like how NBA players used the courts to perfect their skills, Korean Esports stars used these PC Bangs to perfect their skills. Esports started in South Korea in 2003 and have been broadcasting Esports on TV ever since. This is why South Korea has become such a major player in the gaming industry.
With the emergence of smartphones and apps, many gaming companies around the world looked to invest early in developing their own mobile gaming department. The good news for Korea is that they had the right combination of software developers, hardware manufacturers, and internet infrastructure to turn online gamers into mobile gamers. South Korea has the highest smartphone penetration rate in Asia with over 36 million smartphone users in 2020. Two out of three smartphone users have Samsung phones.
Lineage the Mobile Game to Rule Them All
Lineage is the most popular mobile game in South Korea. For gaming companies looking to break into the Korean gaming market, they need to study Lineage and use it as a benchmark in their game development. Moreover, Lineage 2M (Sequal to Lineage M) which was released in late 2019 broke records in South Korea becoming the top-grossing app in South Korea in less than 9 hours after its release. Before that Lineage M was at the top spot for years.
"There will be no games in the next few years that will be able to technically follow Lineage 2M."There are many kinds of video gaming genres, but Korean gamers have a special love for massively multiplayer online role-playing games (MMORPG)," said CEO of NcSoft, Kim Taek-Jin.