Over 17 million tourists from all around the world visited South Korea in 2019. That number has considerably shrunk in 2020 due to COVID-19 and even more in 2021.  It is estimated that the losses to Korea's culture, sports, and tourism industries will be over $35 billion by the end of 2022. The tourist industry took the biggest hit with a drop of over 80%. However, travel is starting to open up which offers many cultural experiences in South Korea for those looking to explore the country and its rich and fascinating culture. There are many amazing cultural experiences in South Korea from tea ceremonies to visiting Korean traditional villages and palaces. Many of these experiences really let visitors have an immersive experience and really do a great job of showcasing the rich and deep culture of South Korea.
We have compiled a list of some of the best cultural experiences to discover all across South Korea once COVID restrictions ease up. For those looking to stay specifically in Seoul, we did an article on the 10 Coolest Places to Visit in Seoul.
Korean Folk Village – Gyeonggi-do, South Korea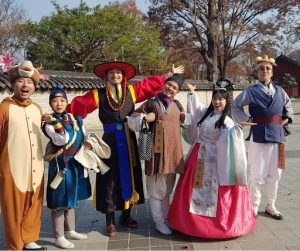 The Korean Folk Village is one of the most famous tourist spots for both Koreans and foreigners. Many people think Gyeongbokgung Palace is the best place to see the Korean tradition. However, if you want to see how ordinary people used to live in South Korea, visit the Korean Folk Village. It is a realistic and interesting place that comprehensively recreates the Joseon Dynasty. Furthermore, you can see and experience traditional Korean culture with dense trees and clear streams.
There are also various farmhouses (thatched houses and tile-roofed houses), government offices of the time, blacksmith's, provincial writing rooms, herbal medicine shops, and pottery kilns. Visitors can enjoy the past and buy things. For example, there is a street market selling traditional foods and household goods.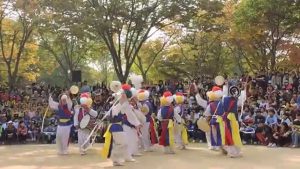 Recently, the Korean Folk Village is open at night for five months. Called the "Korean Folk Village Evening Festival," the event runs from July 10, 2020, to November 1, 2020. Folk villages at night are very beautiful with different charms than during the daytime. Especially on Friday, Saturday, and Sunday, they hold plenty of musical instruments play and parades to enjoy. I recommended watching "Pansori," (runs at 5 p.m.). "Pansori" is a traditional Korean performance and will be a very special experience.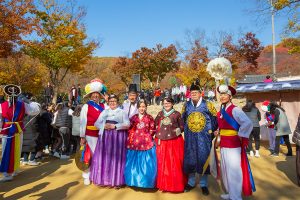 The Korean Folk Village is reproducing every traditional culture based on thorough historical research. You can see traditional wedding ceremonies, horse-riding performances, and "Nongak" which is selected as UNESCO's World Heritage. Also, if you want to try a traditional Korean wedding with your partner, make a reservation. You can make a special memory wearing a wedding hanbok. This place is located in Giheung-gu, Yongin-si, South Korea.
Haenyeo's Kitchen– Jeju island, South Korea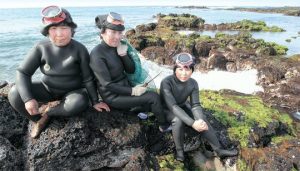 Have you ever heard of Jeju-do Haenyeo? Jeju-do is an island located at the bottom of South Korea. In Jeju Island, there is a culture of Haenyeo in which women dive into the sea for a living without wearing oxygen masks. This has been a UNESCO World Heritage site since 2016. The extreme divers who dive up to 10 meters deep, however, are mostly aged from the 50s to 80s.
Haenyeo has extensive knowledge of the sea and seafood. They go out to sea for up to seven hours a day, 90 days a year, holding their breath for one minute each time they dive. When the Haenyeo rises back to the surface of the water, they make a unique whistle sound. The culture of Jeju Haenyeo has contributed to improving the status of women in the community. Also, eco-friendly fishing activities and fishing management by communities have enhanced environmental sustainability.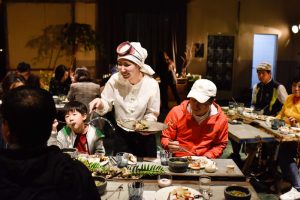 An Amazing 150-minute Experience
Here, we introduce a "Haenyeo's kitchen" where you can experience this Jeju Haenyeo culture more closely. This is an amazing place where performances and fine dining are combined. You can make your day unforgettable through this cultural experience in South Korea,  In Haenyeo's kitchen, there are 4 programs in total: performances, seafood stories, meals, and Q&A time.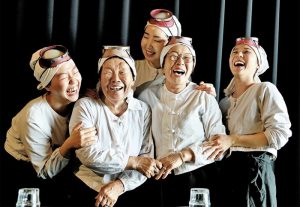 Firstly, in the performance, young artists from the Korea National University of Arts deliver the story of Haenyeo in the form of a play. Secondly, performers tell us about the world of seafood that we didn't know and introduce the ingredients of your food. For example, sea hare is one of their favorite ingredients. Thirdly, it's finally time to eat. Of course, the main food is made of seafood collected by Haenyeo.
Finally, in the Q&A session, Kwon Young-hee, the oldest Jeju Haenyeo at 89 years old, comes out and receives questions. In addition, she sings a great song, too! All courses are conducted in Korean. However, there is no linguistic hedge to performances, songs, and food, so it will certainly be a beautiful experience. It is also recommended to study Haenyeo a little more in advance or to take a friend who is good at Korean.
Namsangol Hanok Village – Seoul, South Korea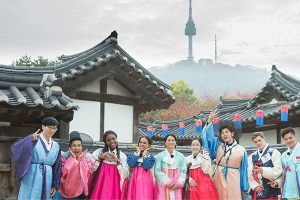 Namsangol Hanok Village is located at the bottom of Namsan Mountain. It comprises 5 Hanok buildings, the Gugakdang, Seoul millennium time capsule square, and a traditional garden. Originally, the Hanoks were scattered around. However, it was moved and restored to make the current village. Furthermore, restoration workers tried to make it look as same as possible to the Joseon Dynasty, which allowed citizens to see the perfect Hanok. Unfortunately, visitors should only watch outside to protect the Hanok, and they cannot go inside. Seoul millennium time capsule square contains everything about Seoul in 1994. Therefore, the 600 items describing Seoul in 1994 will be unveiled 400 years later in 2394.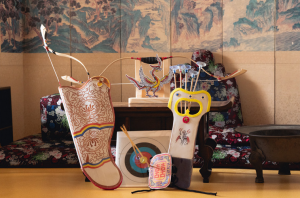 Currently, there is an opportunity to have cultural experiences in South Korea through Namsangol Hanok Village without having to visit there. It is a program for those who refrain from going out due to the Covid-19 situation. "On-line Namsangol Traditional Experience" offers great un-tact programs such as traditional games, Hanok miniature making, traditional knot tying experience, calligraphy, and the archery of the Robin Hood of Korea: Hong Gil-dong.
Tools and materials for the experience will be delivered to your home. If you like to make something, I recommend "Making a traditional bow". It is easy to produce with the video provided. Also, you can have both fun and souvenirs, so it's killing two birds with one stone.
Temple stay at Naksansa – Gangneung, South Korea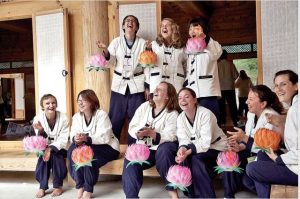 Now is the digital age in which everything flows fast. Sometimes we just move forward without having time to look back. People live in a modernized society and get stress from various causes. It is sometimes difficult to take care of ourselves and manage stress stably. Templestay in South Korea takes you away from modern things for a while and leads you to another world. The Templestay website introduces many Korean temple stay programs for foreigners to participate in. For example, you can choose by region or by theme. Every temple stay is based on Buddhism. But in temples, everyone lives as equal natural people, regardless of religion, race, or gender. Foreigners stay in the same place as Koreans.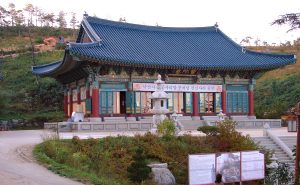 Naksansa is a temple located in Yangyang-gun, Gangwon-do. Currently, Naksansa runs a program called "Dream, Follow the Trail." This cultural experience in South Korea is for those who want to rest well. You will stay away from your busy life for a while and clean your mind through self-conversation. Of course, participants can't use a cell phone here. The only electronic device you can take with you is a camera. During the temple stay, you can never walk barefoot. The main experience held at Naksansa is "Yebool" and "Gongyang". You will also read, greet the sun, and meditate so that everyone can have time for self-reflection. If you want to give yourself a real break, rather than lying in bed, why don't you visit here?
Gyeongju city- Gyeongju, South Korea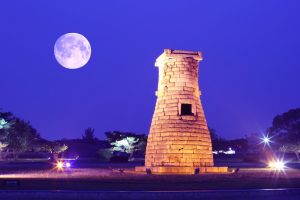 Gyeongju is a tourist attraction in South Korea filled with historical sites and relics. Everywhere you go, there are many relics containing the essence of past culture. In addition, you can see the amazing art and royal tombs of the Silla Dynasty. This has made Gyeongju one of the greatest places to have a cultural experience in South Korea. In terms of education, Korean students visit Gyeongju on school trips. However, this is the perfect place for travelers, too. There are so many attractions that you can't see if you stay for a short time.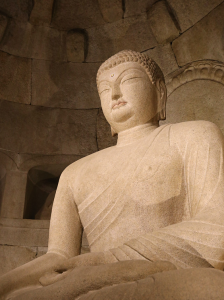 Moreover, there are many places of historic interest such as "Seokguram Grotto" and "Bulguksa temple", as well as Gyeongju Yangdong Village. Five Gyeongju historic districts were designated as UNESCO's World Heritage Sites. It includes Bulguksa Temple, Seokguram Grotto, Namsan Mountain, Wolseong, Daerungwon, Hwangnyongsa Temple, and also Sanseong. In addition, the railway has been moved to the outskirts of the city to protect cultural assets following UNESCO's recommendation.
Here are the Top 10 places you can visit in Gyeongju:
Gyeongju National Museum
The Gyeongju National Museum is one of the best historical museums in South Korea. There you will find Korean historical jewelry, household items, weapons, and ceremonial artifacts from the Silla Dynasty.
Daereungwon Ancient Tombs
Here you will find the tombs of Kings and nobles of the Silla Kingdom. They have 23 large tombs including the largest ancient tomb, Hwangnamdaecong.
Bulguksa Temple
The Bulguksa Temple is a representative relic of Buddhist culture from the Silla Kingdom. Furthermore, it has gone through many restorations work and is now designated as a World Cultural Heritage site.
Seokguram Grotto
At the Seokguram Grotto, you will find a huge statue of the Buddha looking at the sea. It is considered a masterpiece of Buddhist art in the Far East.
Daereungwon Tumuli Park
This park features burial mounds (tombs) all-around your walking path. There are 20 tombs including the Chunmachong Ancient Tomb.
Gyeongju Yangdong village
The Gyeongju Yangdong village is Korea's largest traditional village. It showcases the traditional culture of the Joseon Dynasty.
Cheomseongdae Observatory
The Cheomseongdae Observatory tower is the oldest in all of East Asia dating back to the seventh century. In addition, the tower stands as a symbol of the city's scientific influence on ancient Korea.
Tomb of King Munmu of Silla
This tomb is located on a small rocky island because King Munmu wanted to be laid rest in the East Sea so he could become a dragon and protect Korea from Japan. There are small huts along the coastal path facing the rocks.
Seochulji Pond
Seochulji Pond dates back to the Three Kingdoms Period. The pond is famous for the Korean Legend of King Soji of Silla. Furthermore, there is a building by the pond that was built in the 5th year of King Hyeongjong.
Bomun
Bomun is a tourist district around an artificial lake east of central Gyeongju. There you can ride on tandem bikes around the lake and go on paddle boats on the lake. They have some of Gyeongju's most luxurious lodgings.