One of the most visited places for young Koreans is Dosan Park. Dosan Park is a large public park located in Apgujeong, Seoul, and has a trendy street. It was established to commemorate Dosan Ahn Chang-ho, a widely honored Korean educator, independence activist, and political reformer. He was arrested multiple times for his patriotism and participation in anti-Japanese activities. He advocated for the independence of Korea and promoted reforms in education. The park has a statue of Ahn Chang-ho and a memorial hall dedicated to his memory.
This place is also known for its many new shops that influencers like to visit. Successful restaurants and cafes in Korea often open branches here because they become very popular when they open branches near Dosan Park. Even a brand-new store can be known only for its advantage of being near Dosan Park. However, as this is a place where changes are going so fast, people often don't know where to go. I want to introduce the most popular places to visit in Dosan Park.
Hojokban Cheongdam – Korean Fusion Food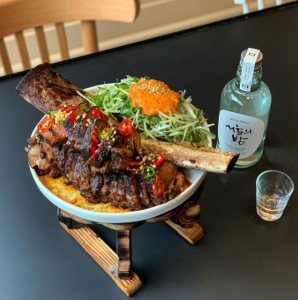 Hojokban is a modern spot that provides special Korean food. It is perfect for foreigners who want to try out unique Korean food. "Hojokban" means a Korean folk item, "Soban," shaped like a tiger's legs. The flavors are amazing and go great with soju. You can enjoy delicious Korean food here, and the interior and colors that embody Korean tradition.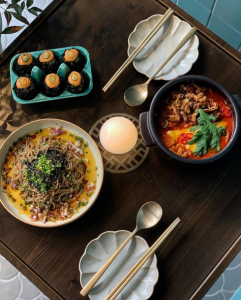 The signature menu, "NY Seasoned Galbi," is cooked in sous-vide for 16 hours and eaten with green onions. Anyone interested in Korean food will know that the Korean galbi is famous. This menu is sold in limited quantities daily as it has been cooked for a long time. Other famous foods are garlic-boiled pork, buckwheat noodles with perilla oil, truffle-based potato Korean pancakes, and Cheongdam dried laver rice balls. However, if you want to taste the spicy food of South Korea, I highly recommend you eat the tiger budaejjigae. For more, visit Hojokban Cheongdam's Instagram(@hojokban) to see their goods and the latest news.
Goldfish Dimsum Cuisine – Chinese Food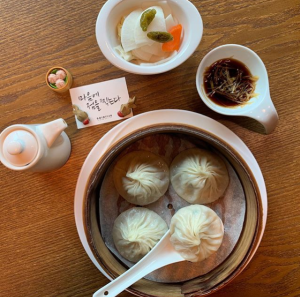 Have you ever had Dim Sum before? Dim Sum is a Chinese dumpling that appears in many different types depending on the ingredients. Dosan Park offers some of the best Dim Sum in Korea. Goldfish Dimsum Cuisine is a recognized Chinese restaurant on this street for a long time. Thanks to the clean restaurant interior, nice food, and friendly service, it is great to have business meetings here. Accordingly, if you are looking for a place to visit in Dosan Park for your customers or buyers, this place is strongly recommended.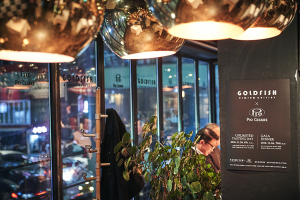 The slogan here is "Put a dot in your heart." This is derived from Chinese characters and may be interpreted differently according to visitors' thoughts. Perhaps the owner wanted to make a dot of happiness for those who eat dim sum here. Its signature menus are "Har Gau," "Radish Cake," "Xiao Long Bao" and "Prawn Toast." When eating at the Goldfish Dimsum Cuisine, it is recommended to have them with traditional Chinese tea.
Daemak Bistro – Japanese Food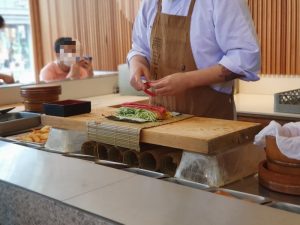 Daemak is a Japanese restaurant run by CNPfood company. They introduce "Futomaki" available to all. This was only available in high-end sushi restaurants. Futomaki is a traditional thick, fat sushi roll typically filled with vegetables and sometimes includes cooked fish like unagi. Moreover, this place is famous for Futomaki, Abura Soba, and Basil Soba.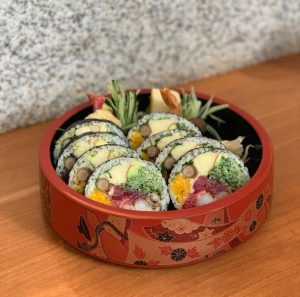 Futomaki can be made with other ingredients such as tuna, eggs, prawn fries, cucumbers, avocado, pickled radish, and wasabi. It is similar to Korean food called "Kimbap." If you sit in a bar seat, you can enjoy making food. Of course, there is also a table where you can eat comfortably. It's crowded on weekends or Fridays, so arrive early and put your name on the waiting list with the iPad in front of the restaurant. It is recommended that you try it with Okinawa draft beer or highball when you eat the food in the Daemak.
Littleneck – Brunch Restaurant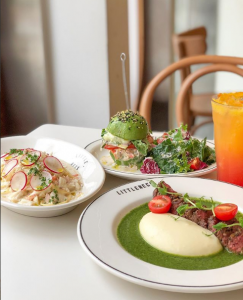 Littleneck is the name of a small town in Queens, New York. It aims for a warm and bright space like the neighborhood and provides a casual menu with cute plates. Littleneck's goal is to present 'Small New York in Seoul' to guests. This place is known as a brunch restaurant, but you can visit anytime to enjoy a delicious meal. Famous foods are pollack cream pasta, sweet potato fries, house steaks, and Hawaiian salmon poke bowl. The restaurant is divided into two floors. Visitors can eat their food on the second floor or under a semi-basement. Thanks to its current popularity, it has also opened branches in Galleria Department Store and Hannam-dong.
Beauty Grocery by Positive Hotel – Healthy Food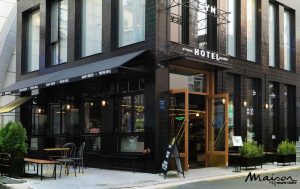 Positive Hotel is an urban lifestyle brand that curates food that improves our body's fundamental functions. Beauty Grocery is a newly introduced space by the Positive Hotel where you can enjoy beauty drinks, food, and products. Located right next to Dosan Park, the entire building is run by this brand. Moreover, there are Beauty Noodle Bar on the basement floor, Beauty Grocery on the first floor, S Body Work Pilates on the second floor, and Room service and Space Rental on the third floor.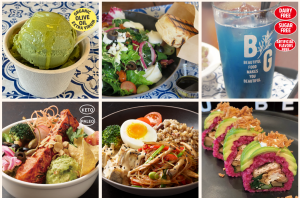 Every menu of Beauty Grocery is based on a Mediterranean diet that realizes "Good In, Bad Out," the basic philosophy of the Positive Hotel. Mediterranean food has an excellent effect on maintaining genetic youth. In addition, it is a recommended diet by anti-aging clinics in Europe and is known as a balanced food that improves metabolism and immunity. The most popular menus are vegan yoga balls, Mediterranean detox salad, and skin protein bowl. They also have Middle Eastern foods like Eggs in Hell and hummus. Besides, healthy drinks such as calamansi juice or peppermint tea are great, too.
Ceci-cela – Dessert Cafe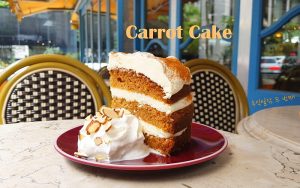 One of the most famous places in Seoul known for its delicious carrot cake is a dessert café called Ceci-cela.  They have by far the best carrot cake in Korea. This place has been popular for about 14 years, even amid the creation of many new cafes in Dosan Park. The terrace is reminiscent of a random street in Paris, France. Homemade waffles and pancakes are popular here these days. However, the most famous dessert menu is carrot cake with a cinnamon scent. It is slightly more expensive than other coffee shops in Seoul but offers high-quality coffee and desserts. Here on the terrace, you can have a peaceful time under the sun on a fine day.
Conte De Tulear – Brunch Cafe&Wine Bar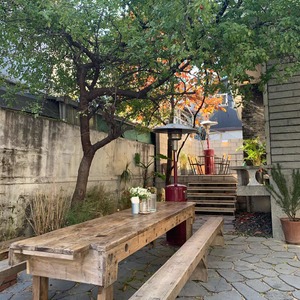 Based on the brand that sells and introduces scent-related products, Conte De Tulear is a complex cultural space where you can enjoy brunch and wine. You can have a great time with delicious foods, drinks, and various scents. "Conte De Tulear" means "Tulear's story" in French. An island-inspired them in Madagascar. It operates as a café in the morning and afternoon and sells liquor and wine from 5 p.m. The exterior looks like a remodeled house, where you can enjoy desserts indoors and outdoors. These days, this place is always on the influencer's list of places to visit in Dosan Park. The brunch menu has salad, pasta, and kimchi fried rice. However, the signature dessert here is a dark chocolate-based "Chocolate Mousse." You can also purchase scent-related products such as scented candles and diffusers.
Cafe knotted – Dessert Cafe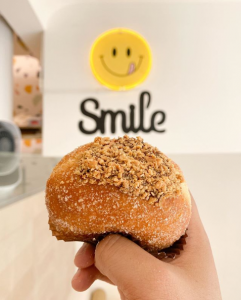 Cafe Knotted is a dessert shop in Dosan Park and is famous for donuts. It was a small shop at first, but it became so popular that it moved to a bigger place recently. 12 kinds of donuts are the signature menu. However, if you visit, you will see a huge amount of bread and cakes on display, in addition to donuts. It's a very crowded, hot place, so I strongly recommend taking out the donuts and bread you want. The opening time is 11 a.m. The donuts and other desserts are served from 11:30 a.m. Recommended donuts are classic vanilla donuts, Nutella donuts, milk cream donuts, and lemon sugar donuts.
Tartine Bakery – Dessert Cafe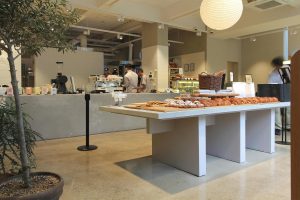 Tartine Bakery is San Francisco's best bakery, run by the "James Beard Foundation Award" winners Chad Robertson and Elisabeth Prueitt. It opened in Korea in 2018. Of course, it is famous in the U.S., but it is also one of the popular places to visit in Dosan Park. The whole building is surrounded by glass, so the bright sunlight is its charm. Moreover, they sell stationery and objects on the side of the cafe. On the second floor, there is also a space for the Kinfolk Dosan Gallery. Trees and flowers are beautifully arranged around the place. You can enjoy a cozy atmosphere. However, the must-eat desserts at Tartine Bakery are caramel chocolate banana cream pie, croissant, and lemon cream tart.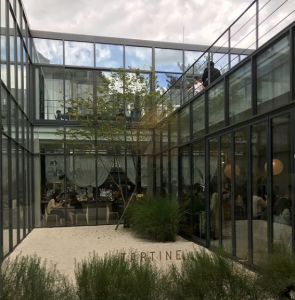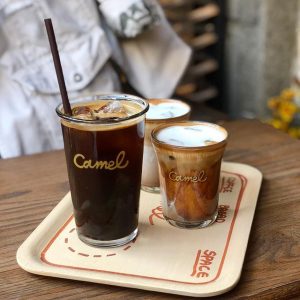 Camel Coffee (Dosan Branch) was opened in July 2020 and is the third store. The other branches are located in Seongsu-dong and Cheongdam-dong. Therefore, the store's overall atmosphere is brown, creating a casual and natural feeling. Its signature menu, "Camel Coffee," is the coffee that adds espresso to 100% fresh cream, with some syrup on the bottom. In addition, this drink is served with ice only. It is a popular menu with a strong and sweet coffee taste. However, if you're looking for a special menu, try "MSGR." MSGR is a witty expression that means "Misugaru" in Korean. "Misugaru" is a drink with mixed grain powder in milk; the savory taste is excellent.
How to get to Dosan Park 
The quickest way to get to Dosan Park would be via taxi. Just tell the taxi driver to take you to Dosan Park. It is famous enough that most taxi drivers will know where it is.
Another option would be to take Subway line 3 (Orange Line) to Apgujeong Station and take Exit 2. Then you can take Bus 3422 to Dosan Park. Or take the subway line 7 to Gangnam-gu Office Station and take either Exit 3 or Exit 4. Then take Bus 301 or Bus 3161 to the stop for the Designer's Club, which is in Dosan Park.