The 10-Step Skincare Routine is well known to the Korean Beauty Community. But if you're new to K-Beauty, terms like 'serum', 'exfoliator', or 'hyaluronic acid' can be very overwhelming. That is why we have prepared a guide about the essentials of K-Beauty in our series about the TOP10 K-Beauty products of 2022. Our third series is on K-Beauty Exfoliators.
Korea is looked to for the latest in beauty products and trends. Korea brought exfoliators to the West and has become wildly popular. One of the main reasons is that you can actually see the results right away. As you rub the product on your face you will notice the dead skin cells come right off. Some might find this a bit harsh and harmful but K-beauty brands have made sure these products do not harm the skin. K-Beauty exfoliators are a MUST in your K-Beauty skincare routine. There are also clear pads and clay scrubs to exfoliate your skin.
So how do these K-beauty exfoliators work?
Exfoliators have one main job. That job is to remove dead skin cells from the surface of your face. The process is safe because your skin automatically sheds dead skin cells every month. If they don't shed they can cause your skin to have unwanted dry patches of dead skin that can clog your pores. This is why exfoliating is very important. It leaves the skin looking brighter and reduces the risk of breakouts. 
Most products use either cellulose or a carbomer to clump the dead skin cells together. By removing the dead skin cells, new skin cells are constantly reproduced which will decrease the chance for blackheads and clogged pores. Exfoliators are either physical exfoliants which are like fine scrubs or chemical exfoliants which are acid-based and usually in the form of a gel. While physical exfoliants remove dead skin cells, chemical exfoliants go deeper into the skin to correct the skin's production of skin cells. Both types of exfoliants can be used by all skin types.
COSRX – One Step Original Clear Pad 
The top K-Beauty Exfoliator for 2022 goes to COSRX and their One Step Original Clear Pad. These pads are presoaked and contain betaine salicylate and hyaluronic acid. It also works great as a facial toner as it gently wipes out any excess oil from your face. It is best to use two pads for your face. Apply the pad to your face and it will exfoliate your skin. In addition, the pads contain willow bark water which clears blemishes and controls breakouts. It works great for sensitive skin as it dissolves dead skin and excess sebum without making your skin irritated. It is great to use right after you have taken off your makeup. You can also use it as a mini sheet mask.  
Price:  23,000 won ($20)
Innisfree – Pore Clearing Clay Mask 2X with Super Volcanic Clusters
Those that like thick face scrubs that are also creamy and smooth will love the Pore Clearing Clay Mask by Innisfree. It does an excellent job of removing dirt and oil from your pores. The mask leaves your skin feeling soft and hydrated. 
Price: 18,000 won ($15)
Dr. Oracle – A-Thera Tea Tree Peeling Stick 
This is one of the best chemical exfoliants out there. Dr. Oracle is a clinic that is all over Korea. It is very well known by the locals and very affordable. This targeted spot treatment uses AHA and BHA which are powerful acne-fighting acids. It is used for treating acne but will also clear pores and blackheads.  One pack has one swab stick that has the product on it. Once you use it, throw it away. Try to use the product two to three times a week. It is very gentle so it works well for people who might have sensitive skin. A box comes with 10 swab packets. Void this product if you are allergic to tea tree oil. 
Price:  28,000 won ($24) 
Benton Aloe BHA Toner
Koreans are crazy about aloe and the Benton Aloe BHA toner offers 80% aloe barbadensis leaf extracts that are great for hydrating and soothing dry and irritated skin. It is also great for those that are constantly out in the sun or during those hot summer months. It also includes snail secretion filtrate which repairs damaged skin and improves its overall texture. The BHA removes the excess dead skin cells off the skin and any other impurities. It is one of the more popular k-beauty exfoliators on the list because it is gentle on the skin and has clean natural ingredients. It is suitable for all kinds of skin types but is best for those that have sensitive dry skin. Best of all you can't beat the price. 
Price: 17,000 won ($15)
NEOGEN – Bio-Peel Gauze Peeling Wine
NEOGEN offers its Bio-Peel series in many forms. However, my favorite is the Bio-Peel Gauze Peeling Wine. This exfoliator has 30 pads that are for single use only. It is great for removing dead skin cells and impurities. The lad uses a 3-layer pad technology and uses lactic acid to help clean out the pores. The main ingredient is Resveratrol which is from red wine. It has naturally occurring AHAs that help with exfoliation. A single jar can last up to 4-5 months. Make sure to not use it for longer than 5 minutes. This can also be used as a toner. For those that do not like the smell of wine, they also offer a lemon and green tea version. It works better than any Korean sheet mask and offers a deeper clean.
Price:  32,000 won ($27)
TONYMOLY – Floria Brightening Peeling Gel 
TONYMOLY's Floria Brightening Peeling Gel offers the best scent of all the exfoliators on this list. This peeling gel uses floral and fruit extracts to exfoliate dead skin cells. The gel helps the dead skins ball up so you can see it working. It also has a hydrating formula which is great for dry skin. The key ingredient is lotus flower ferment water which is rich in antioxidants, minerals, and vitamins. In addition, it has pearl powder to give you brighter-looking skin. Finally, they added Korean plum extract to help with skin elasticity and help with blood circulation.  
Price:  16,000 won ($14)
Klairs – Youthful Glow Sugar Mask 
The younger generation in Korea loves Klair's Youthful Glow Sugar Mask. This is a sugar mask that has many functions. It uses grapefruit and raspberry which are natural antioxidants. The mask is great for removing makeup and provides exfoliation. It also contains shea butter and jojoba seed oil which help with moisturization. Therefore you can not only use this for exfoliation but also as a cleanser and nourishing mask. It has a natural PH of 7Leave the mask on for at least 10 minutes.  
Price:  28,000 won ($24)
Banila Co – Hi Bye Vita Peel Clear Pad 
Banila Co. Hi Bye Vita Peel Clear Pad is one of the few K-beauty exfoliators that uses golden kiwi. There are 40 pads in a container. These are double-sided pads that help exfoliate dead skin cells while at the same time providing a deep pore cleanse. It contains plant-sourced AHAs like malic acid and lactic acid. They use 14 kinds of vitamins and uses New Zealand gold kiwi fruit extract which is a natural antioxidant.  It also does a great job of clearing up acne around the nose and chin area. 
Price:  23,000 won ($20)
COSRX – Natural BHA Skin Returning A-Sol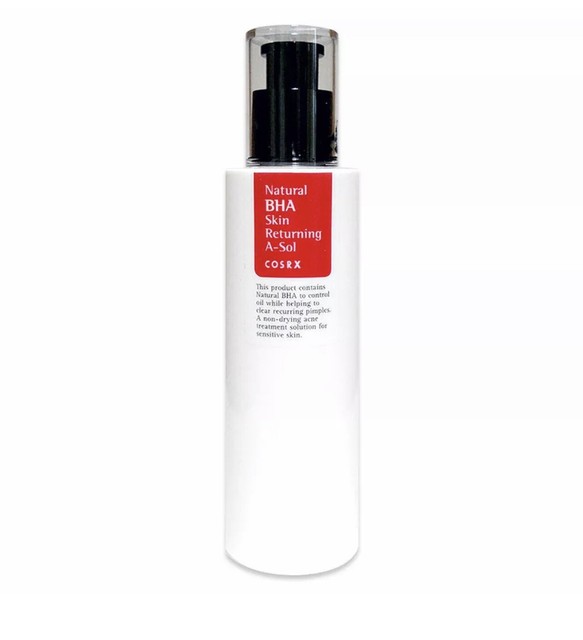 This is the second exfoliator from COSRX that made the list. This exfoliator also can be used as a toner. It contains 69.8% Black Bee Propolis which helps with repairing and hydrating your skin. It also stops bacterial growth for those that have issues with acne or have sensitive skin. The Natural BHA skin returning A-Sol also contains AHA which helps control excess sebum production clearing impurities and dead skin cells. This is best for those that have oily skin as it has a PH level of 4. In addition, it is one of the more popular K-beauty products for men. 
Price:  16,000 won ($14)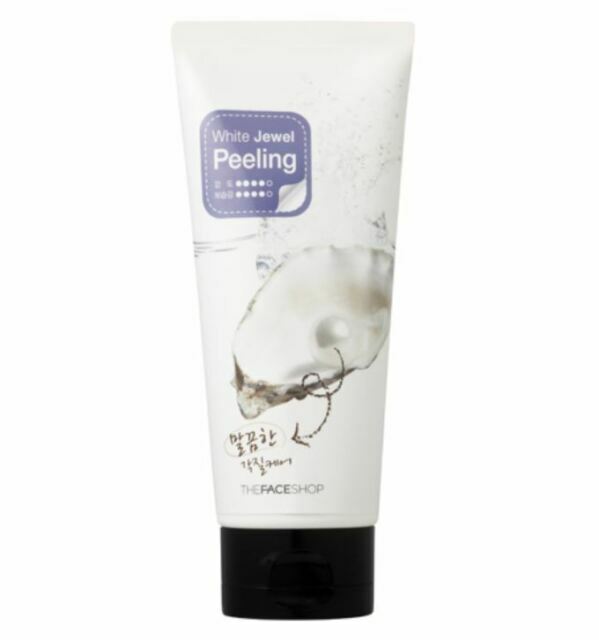 The Face Shop offers many exfoliate but the White Jewel Peeling is my choice from his brand. This exfoliate uses real pearl powder which makes the skin bright and helps remove dead skin cells. It also contains honey extract which makes the skin smooth after you have taken it off. The texture itself is like a liquified pearl and is easy to spread. Use this on dry skin and rub for a few minutes until small bundles start to form. Remember to moisturize your face afterward. There is barely any scent and a little goes a long way.  
Price:  22,000 won ($19)
HONORABLE MENTION
Nature Republic – Super Aqua Max Soft Peeling Gel 
The best bang for your money is Nature Republic's Super Aqua Max Soft Peeling Gel. This peeling gel uses 30 kinds of sea plant ingredients such as seaweed, kelp, sea grape, plankton, sea cucumber, and ocean water to remove the dead skin cells. This product does not contain parabens. It is also great for removing makeup residue and other pore-cloggers from the skin. For those that have sensitive skin, this might be a bit strong. For those that have oily skin, this product will work great and also help with acne. It is also very cheap for such a big tube.  
Price: 12,000 won ($10)
DIY Apple, Coconut, and Honey Scrub
Some might not be able to get these K-beauty exfoliators delivered to your home. No problem. Here is the best K-beauty exfoliator you can make at home using simple products. Here is what you will need to buy from the market. 
Ingredients
1 apple (peeled and sliced) 
1/2 tablespoon, raw organic honey 
1/2 teaspoon, coconut oil
The apples have natural fruit acids and enzymes and work great with the antibacterial properties of honey. Coconut oil is also great for the skin. 
Puree the apple until it is smooth. About 30 seconds in a blender would work. Then warm the honey in the microwave for 10 seconds. Mix the apple puree, coconut oil, and honey in a bowl for a few minutes. Apply it on your face for 10 minutes then rinse with warm water so your pores don't close up.
Check out our other article on the best K-beauty Toners.