The 10-Step Skincare Routine is well known to the Korean Beauty Community. But if you're new to K-Beauty, terms like 'serum', 'exfoliator', or 'hyaluronic acid' can be very overwhelming. That is why we have prepared a guide about the essentials of K-Beauty in our series about the TOP10 K-Beauty products of 2023. Sixth in the series are K-Beauty Face Masks.
K-Beauty has revolutionized the beauty industry. Many thought this was going to be a trend, but it has had a massive effect on Beauty companies as many have produced their own line of K-Beauty products. K-Beauty now has an estimated net worth of close to $15 billion and the trend is still looking up. One of the more popular K-beauty products has been the affordable K-beauty face masks or sheet masks. You can buy many of these face masks for $1 or a pack of ten for $10. Many Korean brands use sales on sheet masks to bring customers into the store. They have K-Beauty face masks for almost any skin type. Whether you are having issues with dryness, dehydration, acne, or irritation, there is a face mask for you.
Sheet masks have been an excellent gateway for K-Beauty products. There are hundreds of them out there and it is hard to select the right one. Face masks are not created equal, and some use different fabrics and extracts. Since the fierce competition in South Korea, K-beauty brands are constantly looking for the latest trends and ingredients to add to their new face mask line. Furthermore, the cost ranges from cheap to expensive. I have rounded up my favorite K-Beauty face masks that you should try for your K-Beauty routine.
Dr. Jart+- Rubber Mask Hydration Lover
Dr.Jart+ has the best collection of K-Beauty Sheet Masks, so it was hard to narrow it down to one. This hydrating two-step rubber mask is my favorite because it contains a high concentration of ampoule serum which leaves the skin very hydrated, making it look supple and dewy. The Rubber Mask Hydration Lover is my choice as the best K-beauty face mask out there today. It is derived from brown algae and does a great job of lowering the skin temperature. It has a phytochelatin complex which is a botanical protein that provides added moisturizing benefits.
In addition, the sheet improves the retention of water in the skin. It uses green seaweed extract, which is rich in vitamins and minerals. Furthermore, the mask is in the form of a gel and has no rubber scent. It is for one-time use only. The application is a two-step process. First, you happy the ampoule after washing your face, then you put the mask over your face for 30-40 minutes. 
Price $12.00 for one mask 
Sulwhasoo – First Care Activating Sheet Mask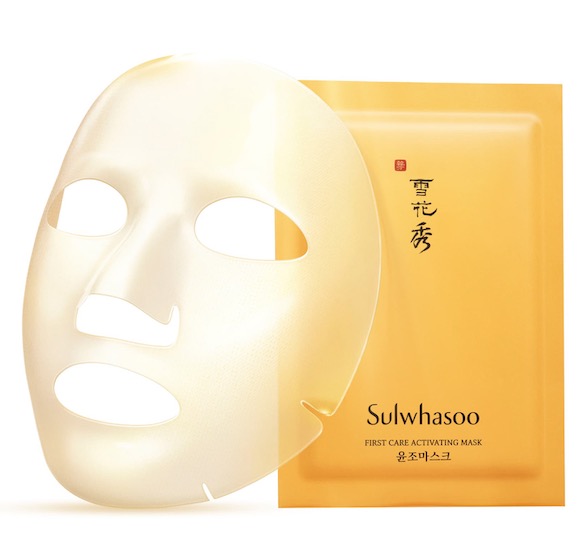 Second, on my list is the Sulwhasoo First Care Activating Sheet Mask. This sheet is soaked in the JAUM balancing complex, designed to help improve the skin's balance. The JAUM Balancing complex is highly regarded as it only picks out 5 ingredients from over 3,000 precious Korean herbal ingredients. These five ingredients focus on improving vitality, resilience, clarity, regeneration, and nourishment of the skin. One single sheet mask has 33% of a bottle of first care activating serum EX. In addition, it has a subtle and natural herbal scent, and the sheet itself is made from gentle cotton wool.  
Price:  $12 for one mask
Too Cool for School – Coconut Ceramide Mask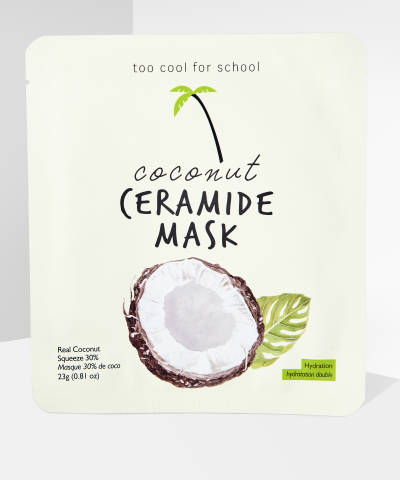 I am a massive fan of coconut, and this K-beauty faces mask by Too Cool for School is formulated with 30% coconut water. In addition, it is filled with ceramides that help recharge the skin with deep hydration. It is great for that dewy/healthy look. The lauric acid in coconut water instantly moisturizes and brightens skin, while ceramides protect skin by building and maintaining a healthy moisture barrier. The scent of coconut is not too strong but the cloth does hold a lot of the coconut water, so be careful when applying it to your face. There is so much essence in the leftover from the bag that you can reuse the mask multiple times.
The mask is made from a translucent sheet material that is easy to stretch. Best of all, you can't beat the price! For those that are not a fan of coconut. You can always try their Egg Cream Mask, which uses extracts from both egg yolks and whites.
Price: $1 for one mask
Klairs – Midnight Blue Calming Sheet Mask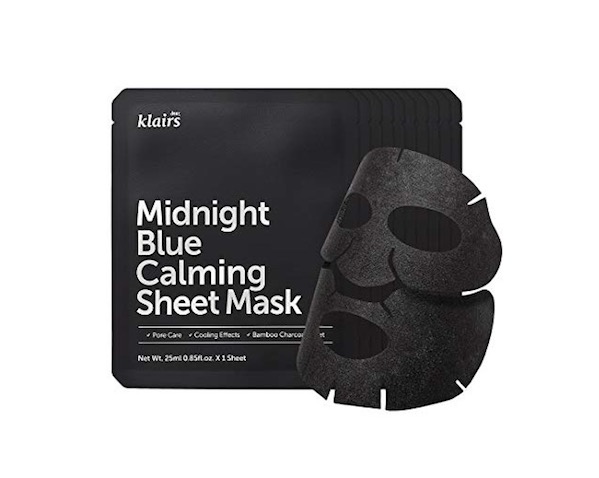 I am a huge fan of Klairs and love their Midnight Blue Calming Sheet Mask. This sheet mask uses willow bark and Centella Asiatica extracts which help lower the skin's temperature with the help of erythritol. A great sheet mask for those hot days of summer. The sheet mask is made from bamboo charcoal which helps with your pores. It also contains a tea tree to help with breakouts for those that have acne problems. Therefore, I would recommend keeping it in the fridge to give it that extra level of coolness. The sheet mask is black and has a tea tree scent. It comes in two pieces which means you will have the flexibility to adjust it to your face perfectly.  
Price:  $3.00 for one mask 
MEDIHEAL – Tea Tree Care Solution Essential Mask EX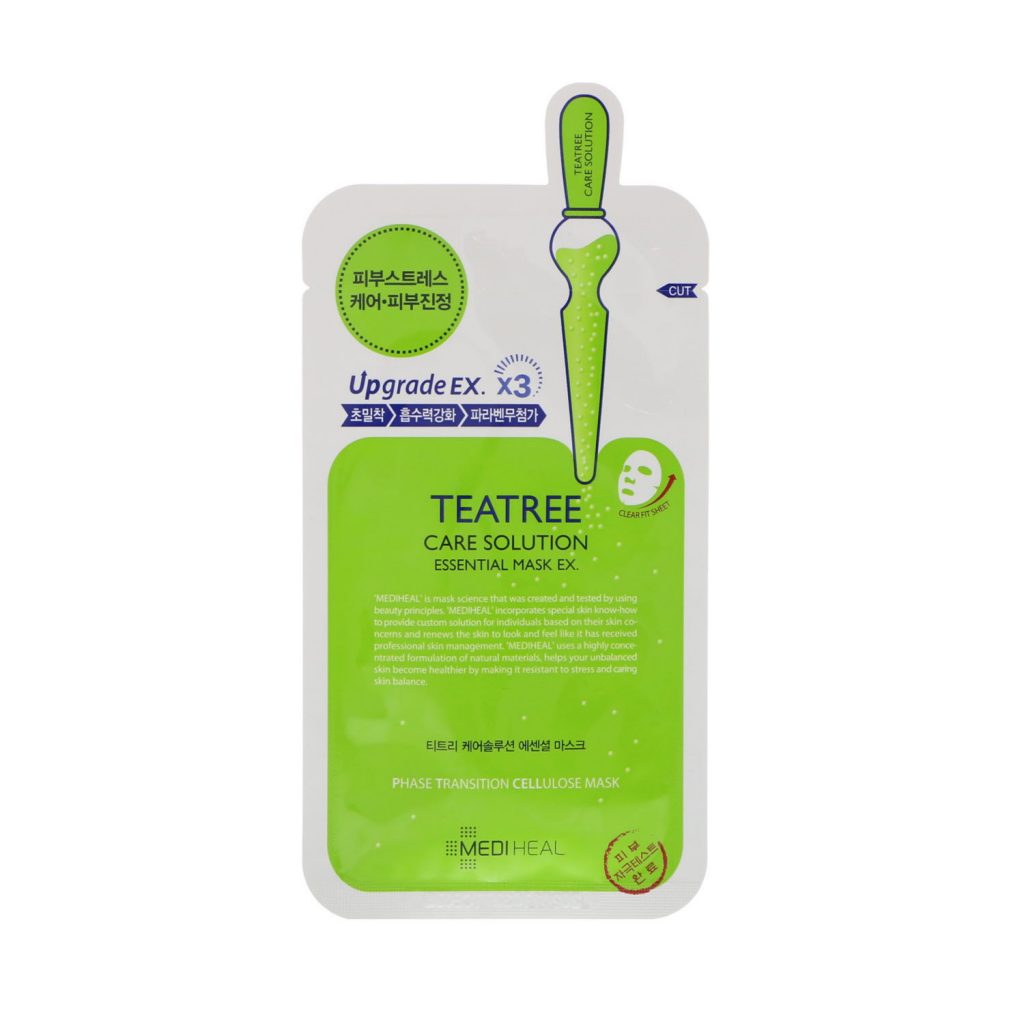 Since partnering with K-Pop boy group BTS, MEDIHEAL has been rising in the K-beauty scene. One of their best K-beauty facemasks is their Tea Tree Care Solution Essential Mask EX. This sheet mask was formulated with tea tree oil and pine needle extracts. The sheet mask will help control sebum secretions and help those that have dry and irritated skin. It is great for removing blackheads and clear pores. In addition, tea tree oil is commonly used to counteract acne as it is a natural antiseptic that kills bacteria. Therefore the sheet itself has a powerful tea tree oil scent. What is cool about the sheet is that it transforms from a white sheet to a transparent gel-like sheet once it is on your face. Furthermore, the mask is smaller than most sheets, so those with a large face might have trouble fitting it perfectly.  
Price:  $3.00 for one mask
Innisfree – My Real Squeeze Rice Mask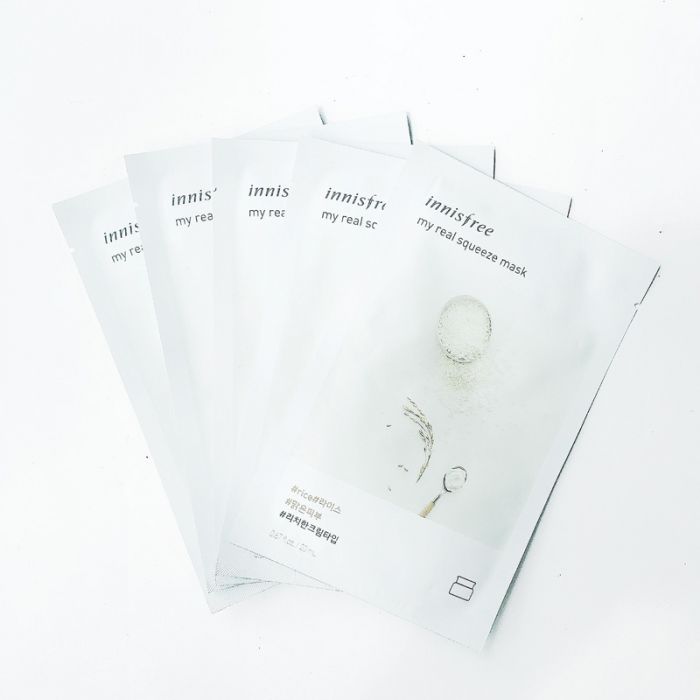 The best facemask from Innisfree is their My Real Squeeze Rice Mask. This is a rich-cream type mask made up of eucalyptus, which does a great job of delivering the essence to the skin. The active ingredients are slowly extracted from a cold brew squeeze process at a low temperature. This ensures that all the nutrients are entirely included per sheet mask. Rice has been known to heal and nourish the skin. Rice water is used as a natural toner to brighten skin and makes it very soft. Because of the price, you can use this sheet daily. It also contains this special Jeju Green Complex filled with botanical extracts such as green tea, tangerine, camellia leaves, cactus, and orchids. In addition, tests have shown that this sheet mask leaves the skin 150% more moisturized than before.  
Price:  $1.50 for one mask 
ENATURE – Bio-Zeup Sheet Mask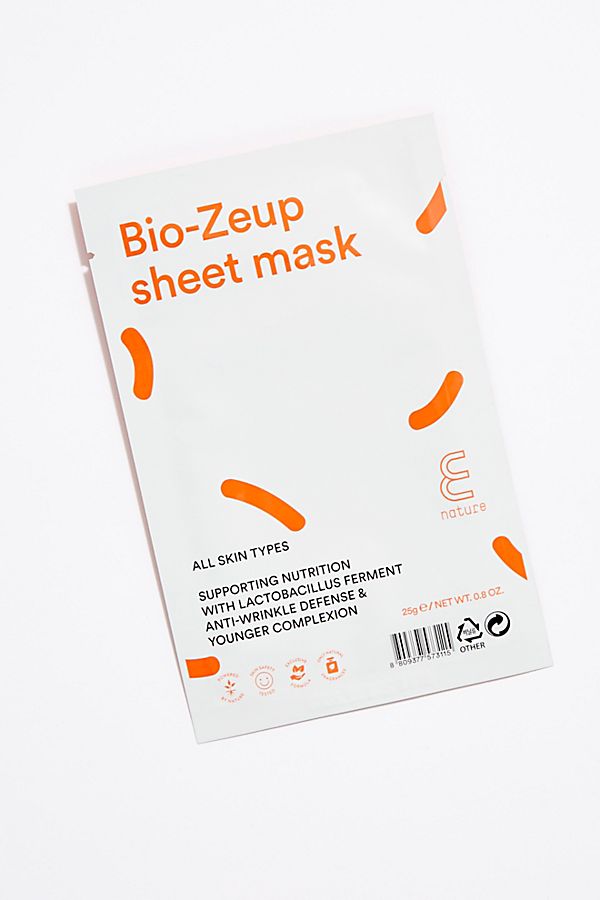 The Bio-Zeup sheet mask from ENATURE is 6th on my list. This sheet mask is formulated with fresh paprika extract and lactobacillus ferment, which hydrates your skin and helps with elasticity. The sheet mask is silky and flexible and leaves plenty of leftover essences. It also contains licorice root extract, the antioxidant licrochalcone A, and glabridin, which has anti-aging and skin-soothing properties. Therefore, I would recommend this for those with very oily skin, as those with dry skin will find it insufficient and need to apply a moisturizer afterward.  
Price:  $3.00 for one mask 
Mamonde – Flower Lab Essence Mask Rose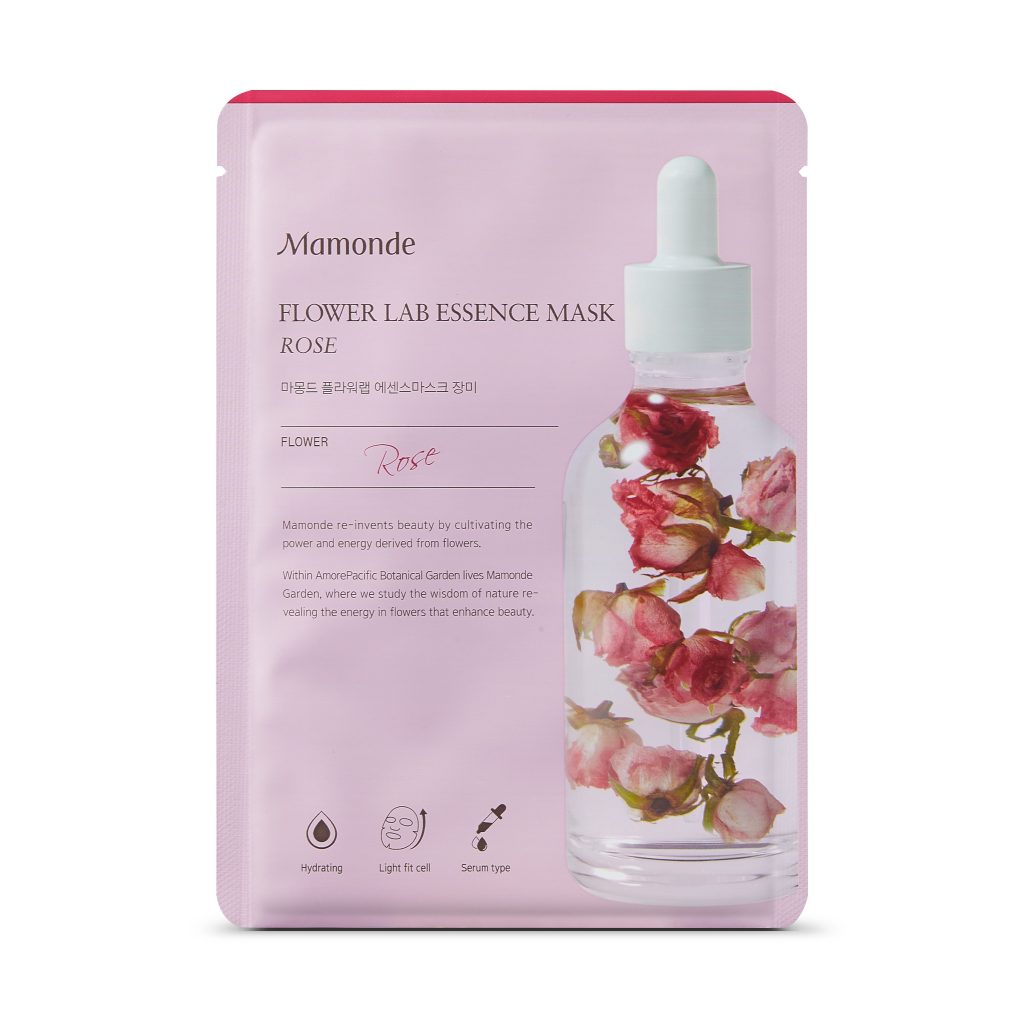 The best-smelling K-beauty facemask is Mamonde's Flower Lab Essence Mask Rose. Those that prefer K-Beauty Sheet Masks that are super adhesive should try Mamonde's Flower Lab Essence. It features flower extracts at 2,000 ppm and has ten other flower types to choose from. I would recommend the Rose, but they also have Moonlight flowers, Camellia, and Magnolia, to name a few. The sheet is made of eucalyptus pulp which helps push serum into the skin. It is very hydrating and smells like roses. Furthermore, it has a gel-like texture and feels very cool on the skin. Mamonde offers other flower options like Calendula; however, my choice would be the Rose. 
Price:  $3.00 for one mask 
LEADERS – Aquaringer Skin Clinic Mask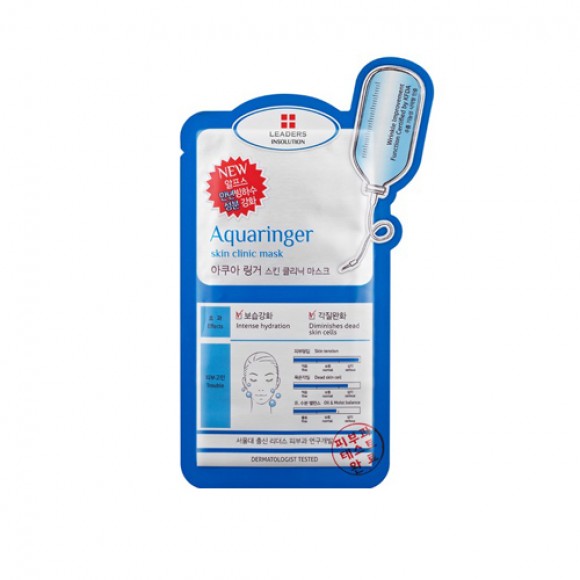 LEADER's Aquaringer Skin Clinic Mask could be hard to find, but it is worth the try. This is a cotton sheet mask for daily use. It has a natural Alps glacier water which gives skin hydration and energy. It also contains the wrinkle-improving ingredient, adenosine. Therefore, this mask is great for dry and flaky skin. Dermatologists specially developed it to help treat dry, dehydrated, and dead skin. It contains sugar maple extract that helps remove bacteria with its natural alpha hydroxy acid. In addition, it contains chamomilla Recutita flower extract, which provides antioxidant protection and helps moisturize the skin.  
Price: $4.00 for one mask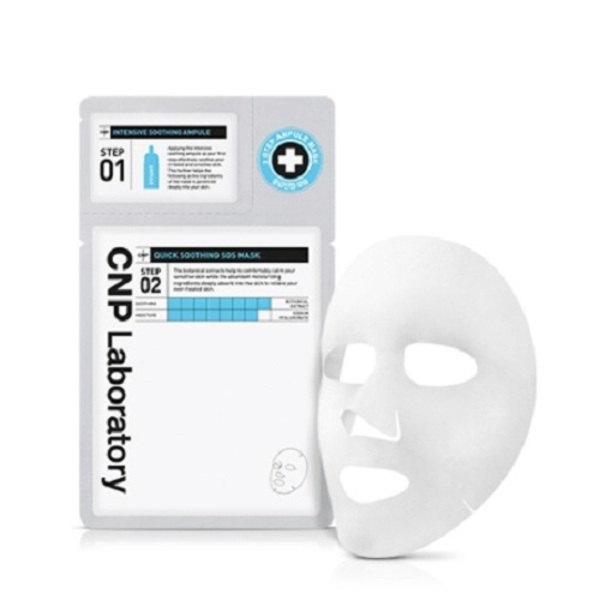 CNP Laboratory is an up-and-coming K-beauty brand in Korea. This mask is more pricey but is great for those living in areas of high air pollution and UV rays. The sheet mask contains seven complex plant extracts that help calm and soothe the skin. In addition, they use a patented anti-irritant complex formulated by CNP's dermatologists to soothe irritated skin. It is a two-step intensive soothing treatment mask where you must first apply an intensive soothing ampule to your face after cleansing. Then apply the SOS Sheet Mask to your face and leave it on for 20 minutes. After you peel it off, gently pat your face to let the remaining serum get absorbed into your skin.  
Price: $5.00 for one mask
HONORABLE MENTION
Benton – Snail Bee High Content Sheet Mask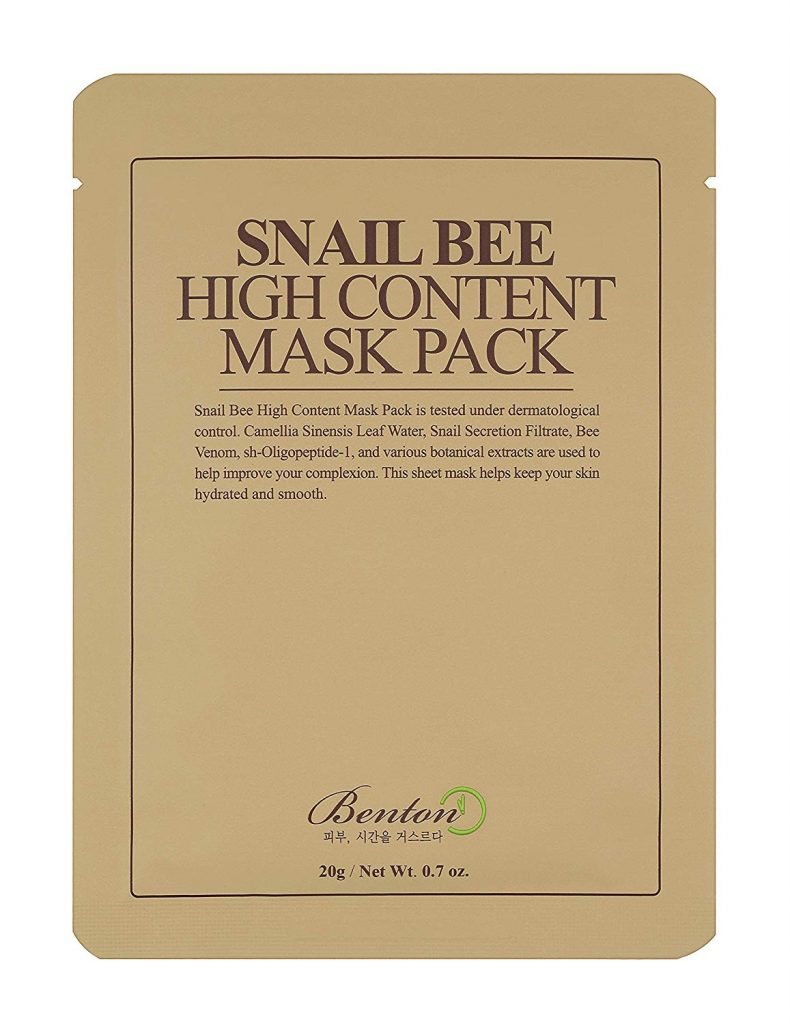 One of the more innovative sheet masks is from Benton. Their Snail Bee High Content Mask Pack is a very popular facemask with the older generation. The sheet mask is made of pure cotton soaked in snail mucin. It does a great job of nourishing and hydrating skin. It also contains bee venom extract that helps improve skin tone and texture. Furthermore, the mask does not use water; instead, it uses Camellia Sinensis leaf water (66%) and snail secretion filtrate (20%) for a pH level of 6. This is an all-in-one functional multi-care sheet mask that uses ingredients like arbutin and adenosine, which help whiten your skin and remove wrinkles.  
Price:  $2.00 for one mask