The 10-Step Skincare Routine is well known to the Korean Beauty Community. But if you're new to K-Beauty, terms like 'serum,' 'exfoliator', or 'hyaluronic acid' can be overwhelming. That is why we have prepared a guide about the essentials of K-Beauty in our series about the TOP10 K-Beauty products of 2023. Fourth in the series is K-Beauty Cleansing Oils and Balms.
K-Beauty brands focus heavily on cleansing oils and balms as they are used as the first step in the K-beauty 10-step routine. It is a part of the double cleansing process, and since oil dissolves oil, it is the perfect product to remove makeup. K-beauty brands have perfected cleansing oils to the point that they are regarded as some of the gentlest products. Some are sensitive to oil, don't worry; I have done an article on water-based makeup removers. It is essential to clean your face thoroughly so your skin can absorb moisturizers, serums, and K-Beauty sheet masks.
However, which cleansing oil works best?
There are a lot of K-Beauty brands that are battling to gain your attention. There are not only cleansing oils but there are balms as well. If you need a more robust solution, there are many great facial treatments in South Korea you can physically go to if you are in Seoul. 
Here is my list of the top 10 cleansing oils and balms. Enjoy!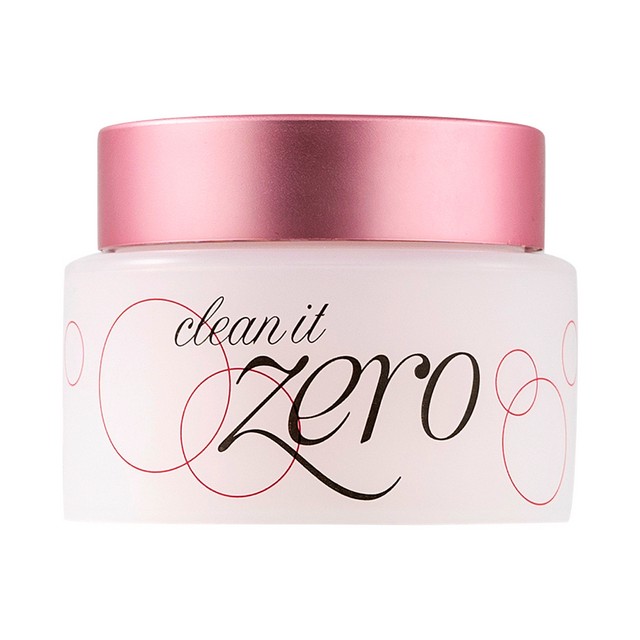 The Banila Co. Clean it Zero is my choice for the best K-Beauty cleansing balm. This is the best makeup remover for those that apply a lot of makeup. It does a great job of removing mascara. The product looks like a balm. Use your finger to get one scoop out and rub it between your fingers. As you rub it, it will turn into oil. Apply this oil
to your skin to remove your makeup. This all-in-one cleanser works for all kinds of skin types. In addition, it will clean your pores and has papaya extract to exfoliate the skin and remove impurities. Furthermore, it contains mineral oil, which cleans and removes blackheads. After you have applied the oil to your face, use warm water to wash out the makeup.  
Price:  29,000 won ($24)
Glow Recipe – Papaya Enzyme Cleansing Balm
The Papaya Enzyme Cleansing Balm is one of the best products to come from Glow Recipe. Once you open it, you will feel like you are smelling fresh papayas and mangos on a tropical island. It is filled with papaya enzymes which work great to gently remove dead skin cells and refine the appearance of pores. The papaya seed oil is also great for adding that extra layer of hydration to your skin. In addition, the cleansing balm also contains blueberries, which significantly protect your skin against the harmful effects of UV radiation and air pollution. 
Price: 38,000 won ($32)
NEOGEN – Real Cica Micellar Cleansing Oil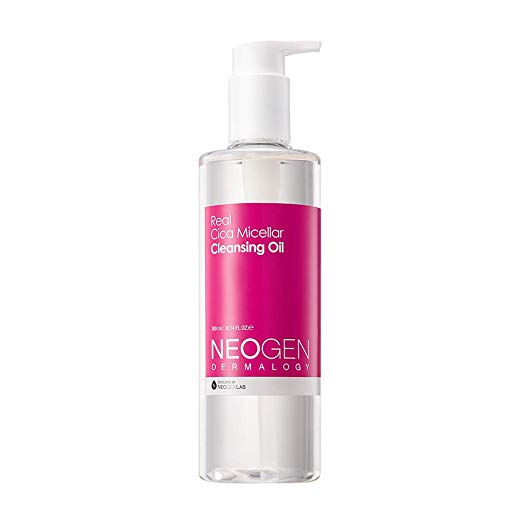 The best cleansing oil is NEOGEN's Real Cica Micellar Cleansing Oil. The main ingredient in this product is Centella Asiatica which is rich in antioxidants and has anti-inflammatory properties. Use this cleansing oil if you have issues with breakouts, acne scarring, and even wrinkles. One of the few cleansing oils containing water is micellar water. Micelles are great at soaking up oil and grime, leaving your skin smooth. It has a light citrus scent and is more watery than other cleansing oils. In addition, it does a great job of removing sunscreen and waterproof mascara/eyeliner.  
Price:  28,000 won ($23)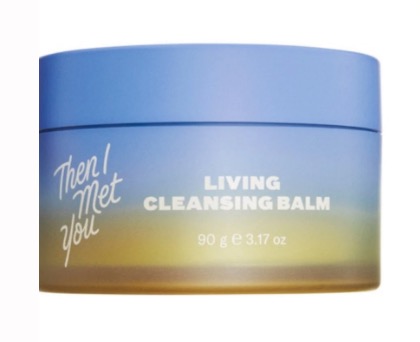 Then I Met You's Living Cleansing Balm and won the Allure Best of Beauty, Hello Giggles Beauty, and Brides Beauty in 2019. It is great for removing oil-based impurities like sunscreen, makeup, and sebum. It uses fatty acid-rich seaberry oil, sea buckthorn oil, grape seed oil, and olive oil which helps protect and soften the skin while leaving zero residues. The balm is made with fermented rice water to brighten and nourish the skin. In addition, it uses tea tree oil to clean out pores and help fight outbreaks. Lastly, licorice roots help to even the skin tone, and green tea for anti-aging. The smell has a hint of licorice root mixed with citrus. It is recommended for any skin type and is free of parabens and artificial coloring. The reason why it is not ranked number 1 is due to the price.
Price: 44,000 won ($38)
LANEIGE – Perfect Pore Cleansing Oil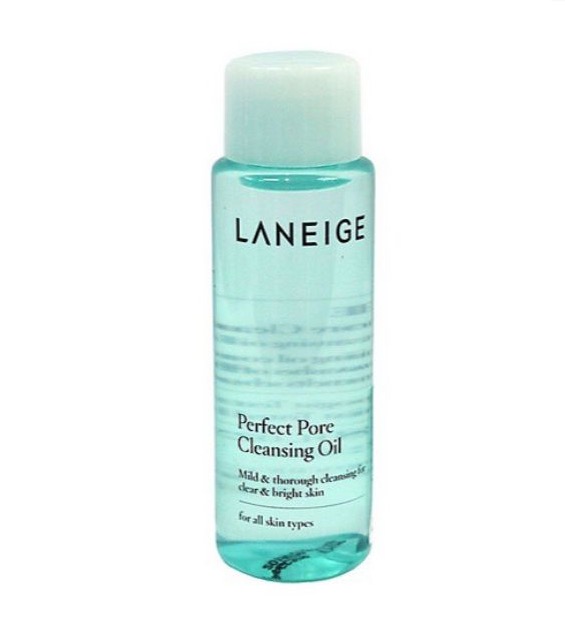 LANEIGE has created a great cleansing oil called Perfect Pore Cleansing Oil. This cleansing oil uses a natural virgin coconut oil base and mugwort extract, which has pore-purifying properties. This works great for those that have problems with blackheads and whiteheads. The best part about this product is that it is ophthalmologically tested to be safe to remove even waterproof makeup. Furthermore, coconut oil brings antimicrobial, antifungal, and detergent activities. In addition, the product contains botanical extracts of Chamomile flower, Lavender, Marsh Mallow root, Lemon Verbena Leaf, Centella Asiatica, and Aloe Vera Leaf.  
Price: 28,000 won ($23)
ETUDE HOUSE- Real Art Moisture Cleansing Oil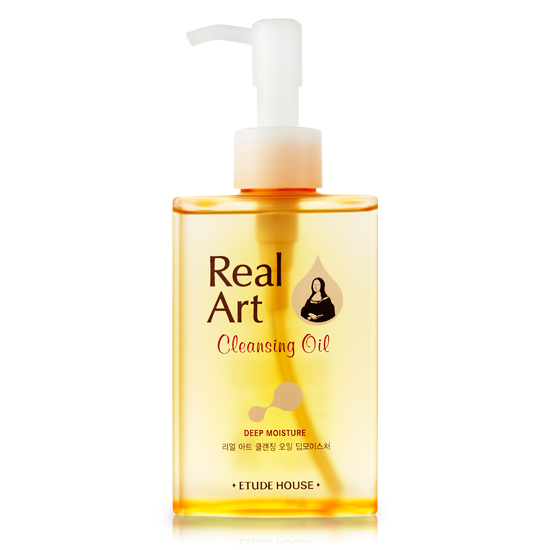 You will surely have heard about Etude House for those following K-Beauty Gurus on YouTube. The Real Art Moisture Cleansing Oil from Etude House has a non-sticky oil consistency and removes makeup with one wipe. It has anti-wrinkle properties and will not irritate your eyes. It will not leave any residue on your face and will leave your face feeling soft and conditioned. This cleansing oil is thicker than the other cleansing oils on this list and makes for a nice massage when applied to dry areas on the skin. The oil contains coconut oil, sesame oil, apricot kernel oil, and grape seed oil.  
Price:  14,000 won ($12)
Innisfree – Apple Seed Cleansing Oil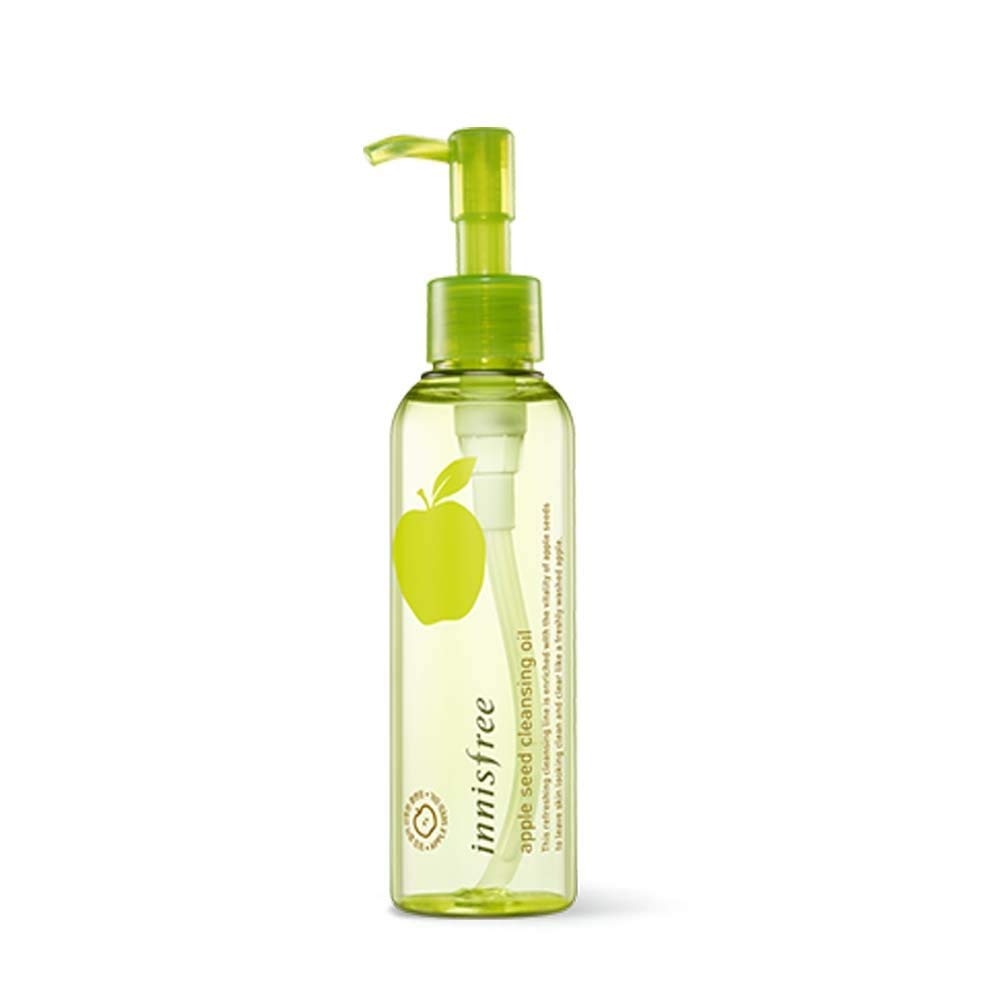 One of the better-smelling cleansing oils is the Innisfree Apple Seed Cleansing Oil. This is one of the few K-Beauty Cleansing Oils that uses apple seed oil and fruit extract. The apple extract's purpose is to leave the skin fresh and soft. The apple seed oil exfoliates dead skin cells to keep the skin healthy. In addition, the apple seed oil is rich in unsaturated fatty acids that keep your skin firm and moisturized. The apple extract is rich in vitamins and organic acids. The smell reminds me of the jolly rancher green apples. It is also great for cleaning makeup brushes.  
Price:  14,000 won ($12)
Klairs – Gentle Black Deep Cleansing Oil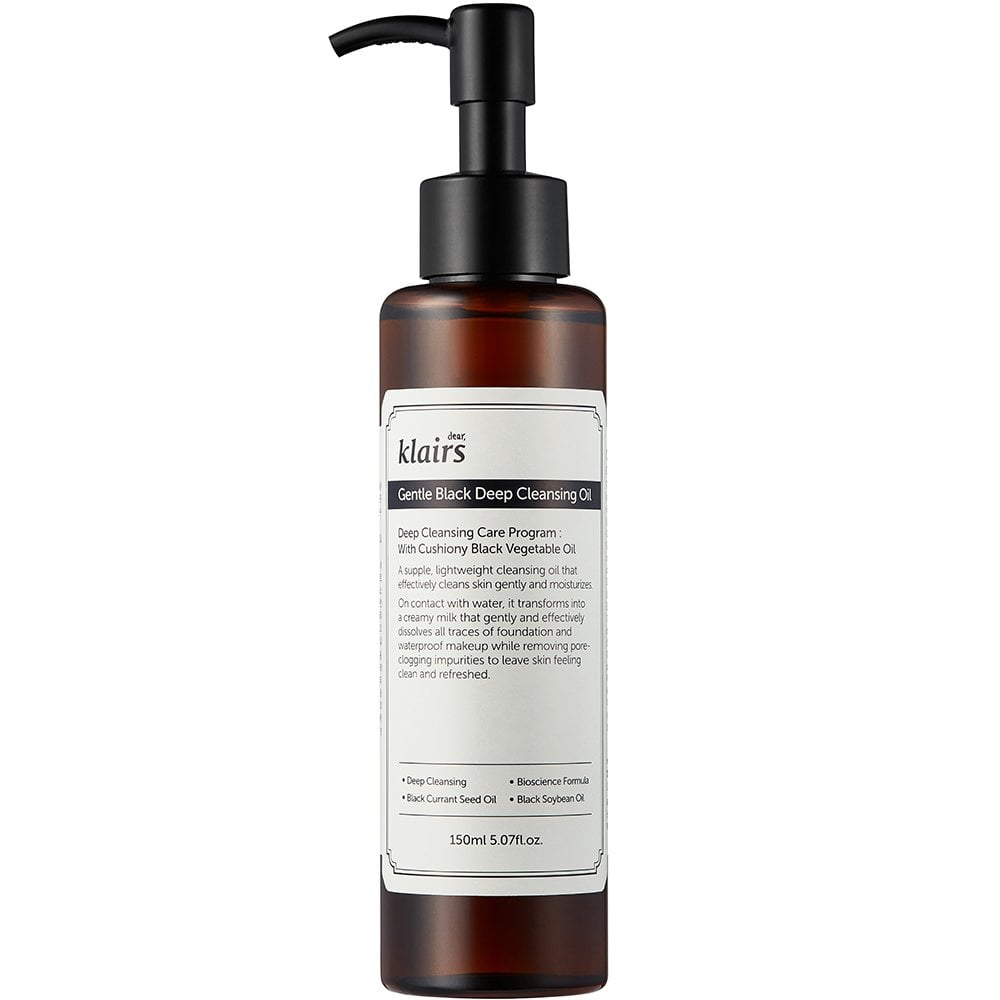 Klairs Gentle Black Deep Cleansing Oil is great for removing makeup. This K-Beauty Oil Cleanser is a hypoallergenic and gentle cleansing oil that removes your makeup without drying it out. It contains several vegetable oils, which also help moisturize the skin. Their main extract comes from black beans to control sebum production, which helps with providing a more soothing look to the skin. In addition, it contains black sesame oil with antioxidant effects and black currant seed oil rich in vitamins and minerals. It has a black tea smell. Remember to use warm to hot water when using this product, as it will not be able to get all of the cleansers off.  
Price:  23,000 won ($20)
Mamonde – Petal Spa Oil to Foam Cleanser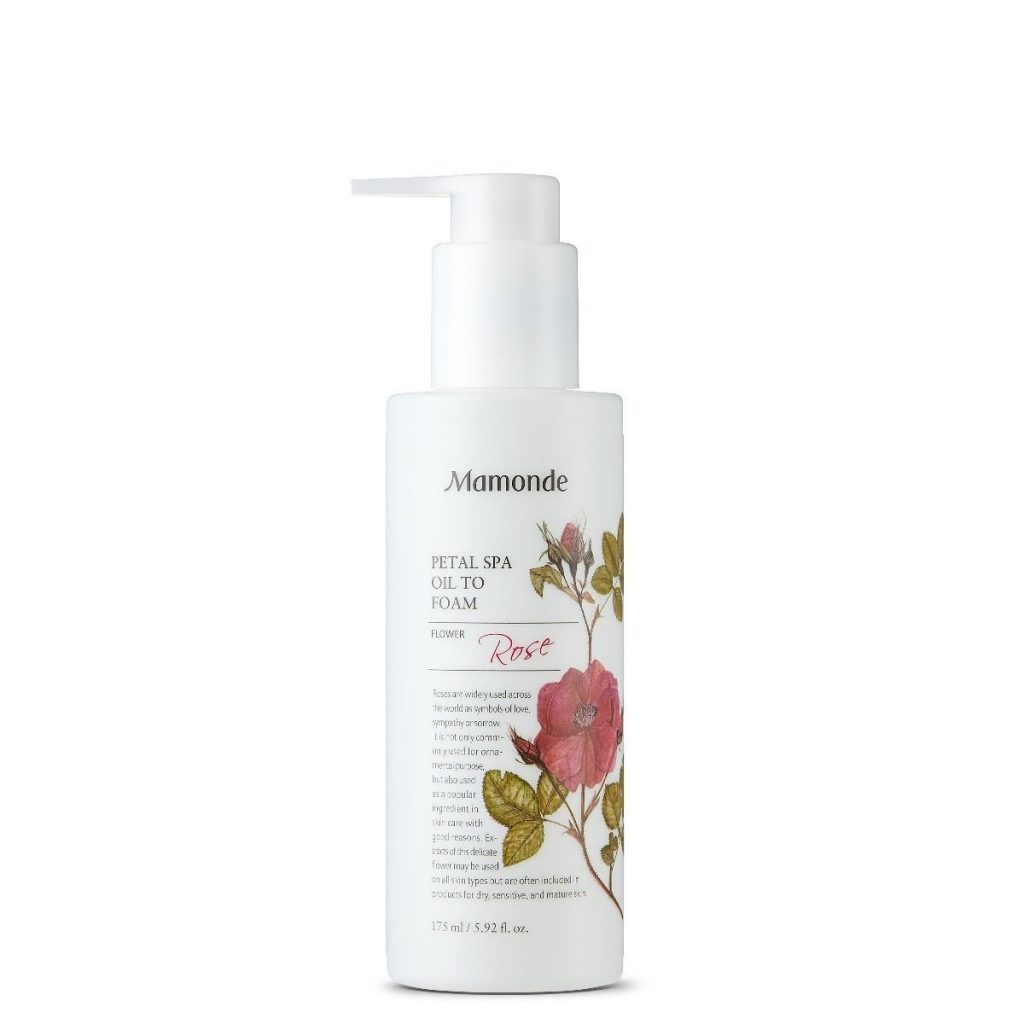 The Mamonde Petal Spa Oil to Foam is a big hit among the older generation in Korea. This cleansing oil transitions to light foam when added to water for more effective cleaning. The smell has a rose aroma because it uses Damask rose, which is known for its soothing scent. The roses are handpicked and are 100% USDA-certified organic damask roses. This product is also Vegan certified. When applied, it goes on like a typical cleaning oil, but when you add water, it foams. It will deep clean your skin without leaving it dry. Avoid making contact with your eyes because the product will sting. This is the cleansing oil for those who like a heavy rose scent.  
Price:  25,000 won ($21)
Hanskin – Pore Cleansing Balm (PHA)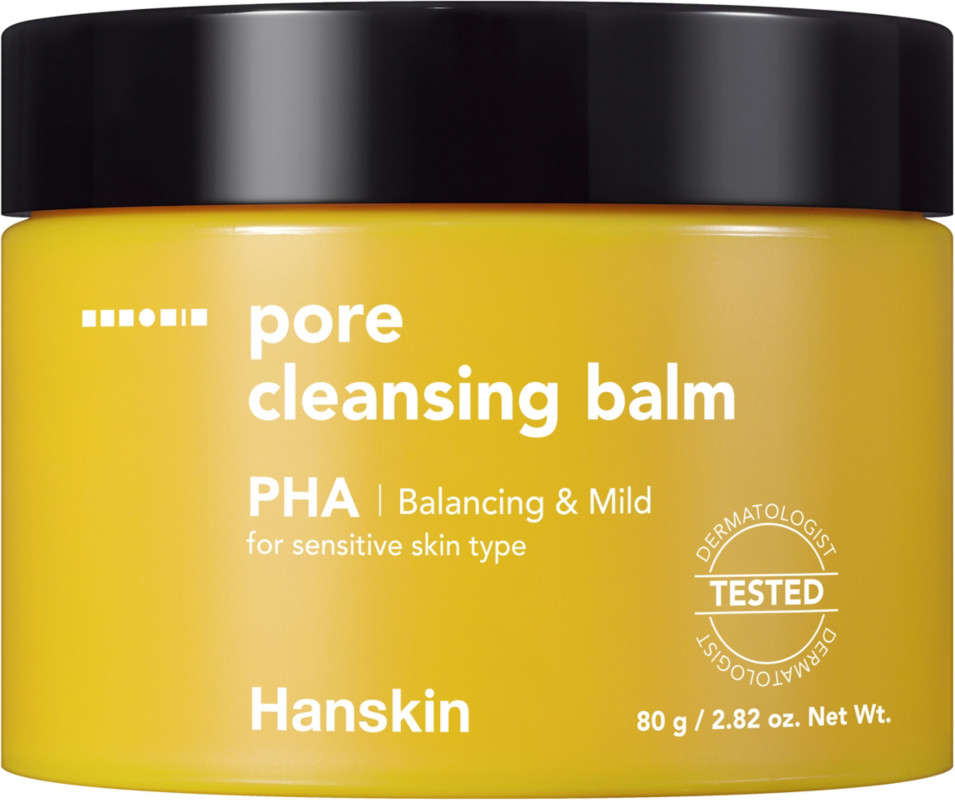 Hanskin makes my list because it is an excellent alternative for those who can't find the Banila Co. Clean it Zero. This cleansing balm is very similar to the Banila Co. Clean it Zero. It is designed for sensitive and reactive skin. It is made with plant-based ingredients and has polyhydroxy acids (PHA) that help gently dissolve dead skin cell build-up and protect against irritation. The hydrating formula is great for removing makeup and pore impurities. It leaves behind a protective layer of moisture on dry skin to help the skin fight off irritants. Therefore those that do not like the feeling of oily residue on their face should find another cleansing oil. Those that don't mind should remember that the oily residue is there for a reason.  
Price:  23,000 won ($20)
HONORABLE MENTIONS
su:m37 Skin Saver Essential Clear Cleansing Oil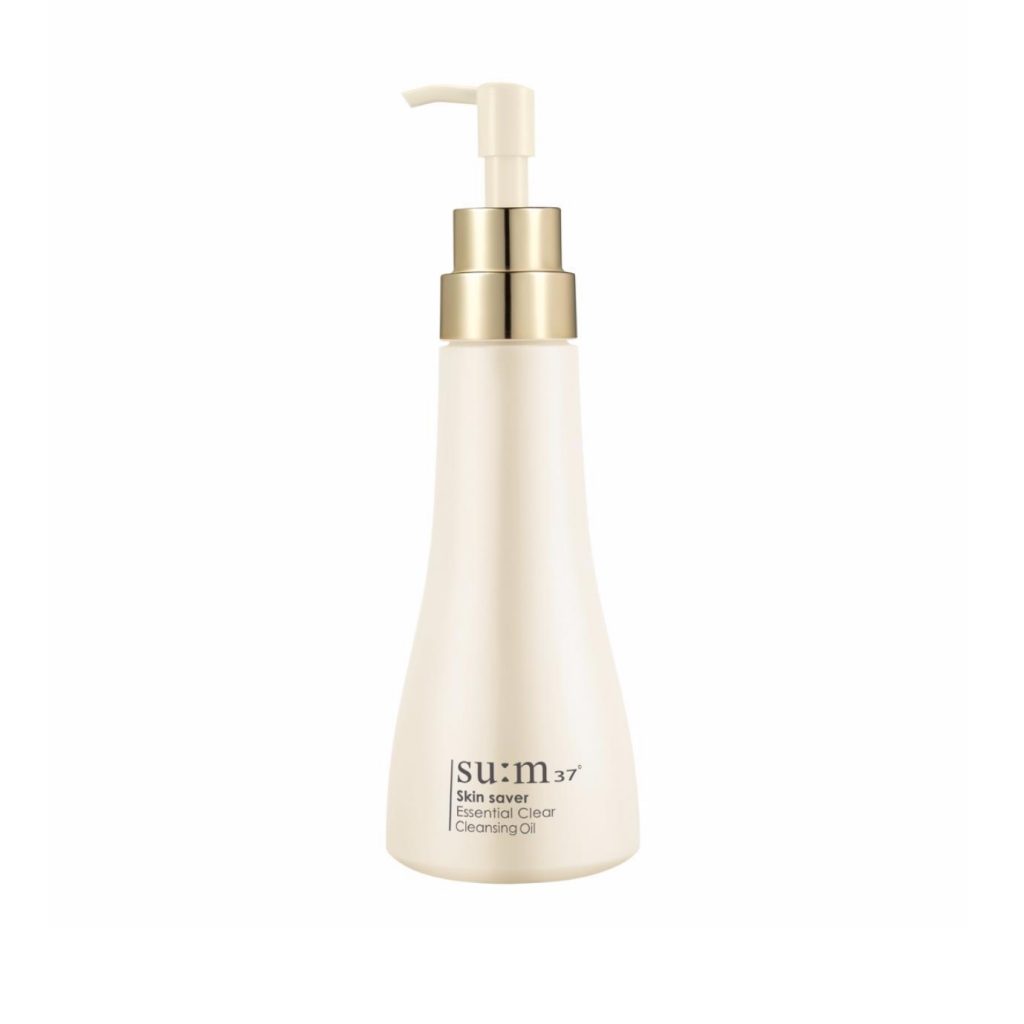 For those that can afford it, su:m37 Skin Saver Essential Clear Cleansing Oil is worth the buy. This is one of the more pricer cleansing oils on the list. It contains green tea oil and millet oil for extra skin conditioning benefits. It cleans the skin with a hypo-allergenic formula that has undergone many skin stimulation tests. In addition, this cleansing oil uses 50 kinds of plants. These plants have been naturally fermented for over 372 days. Their main ingredients are fermented giant kelp, deep ocean water, and seaweed extract. It has a gel-like texture but rises off well. This product is a bit hard to find online and is on the expensive side.  
Price:  47,000 won ($40)
ENATURE – Moringa Cleansing Balm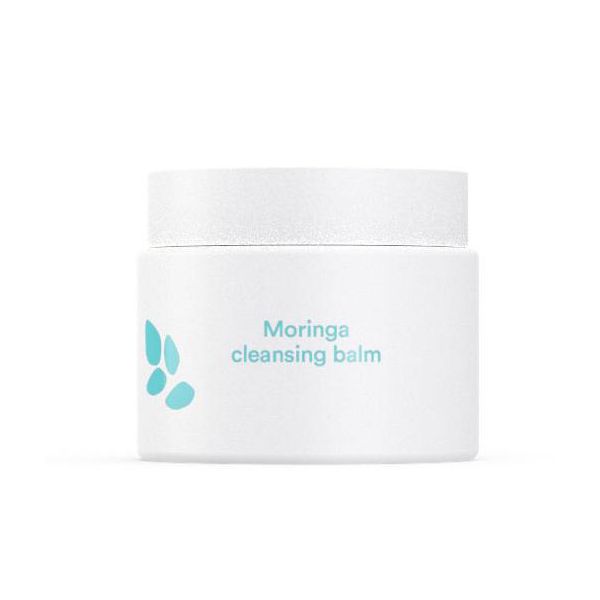 The only reason why I am putting ENATURE's Moringa Cleansing Balm this low on my list is because of its texture. This cleansing oil balm has a sherbert-like texture which I am not a big fan of; however, it does a great job of removing makeup without leaving behind residue. It contains moringa seed extract, birch juice sap, and iris extract that help hydrate and strengthen your skin. It works for all types of skin. The balm has a unique herbal scent. It has a thicker feel than the Banila Co. and washes off thoroughly. Also, it comes in a smaller container.  
Price:  27,000 won ($23)