Kpop is taking to social media in a very big way. BTS and BLACKPINK have proved that social media channels like YouTube, Twitter, and Instagram are the best ways to go global. Korean startups can learn a lot from how many Kpop entertainment companies are using these global social media platforms. Many Kpop entertainment companies train their artists on how to manage their social media channels. Many big idol groups like Big Bang, EXO, SNSD, BTS, and BLACKPINK have their own social media accounts. It is a part of the entertainment company's marketing strategy and a way for idols to connect with their fans.
This article will focus on Instagram and the top Kpop Idols on Instagram. A great way to estimate the cost for a sponsored post by an influencer can be found here. However, it is unknown if the Kpop idols fully own their social media accounts or if it is owned by their Kpop Entertainment company. If they are owned by the Kpop Entertainment company then they will have the final say in what can be promoted on the platform. 
Lisa – BLACKPINK – The Top Kpop Idol on Instagram

Lisa is the top K-pop star on Instagram and she is not even Korean! This goes to show that non-Koreans can make it in the world of Kpop. Lisa was born in Buri Ram, Thailand, and is considered one of the best female dancers/rappers in Kpop. Her real name is Lalisa Manoban and Lisa is credited with helping her other Blackpink members with their own Instagrams. She has been heavily involved with fashion and beauty and her Instagram feed is proof of that. Her Instagram really shows off her sense of style! Lisa officially passed the 50 million followers mark back in April of 2021.
# of posts: 695
# of followers: 52.5 Million 
Estimated cost per sponsored post: $200,000

While Lisa is #1 on Instagram, the other members on Blackpink are right behind her. This goes to show just how passionate BLINKs (Blackpink fans) really are. Jennie comes in at #2 on the list. She also has a secondary account called lesyeuxdenini which she uses to showcase her personal photography account. Her main account does a great job of showing the behind-the-scenes look at her work and life. She always uploads while she is shooting her next video so it is a must to follow her if you are a fan of Blackpink.
# of posts: 742
# of followers: 45.3 Million 
Estimated cost per sponsored post: $170,000
Rose – BLACKPINK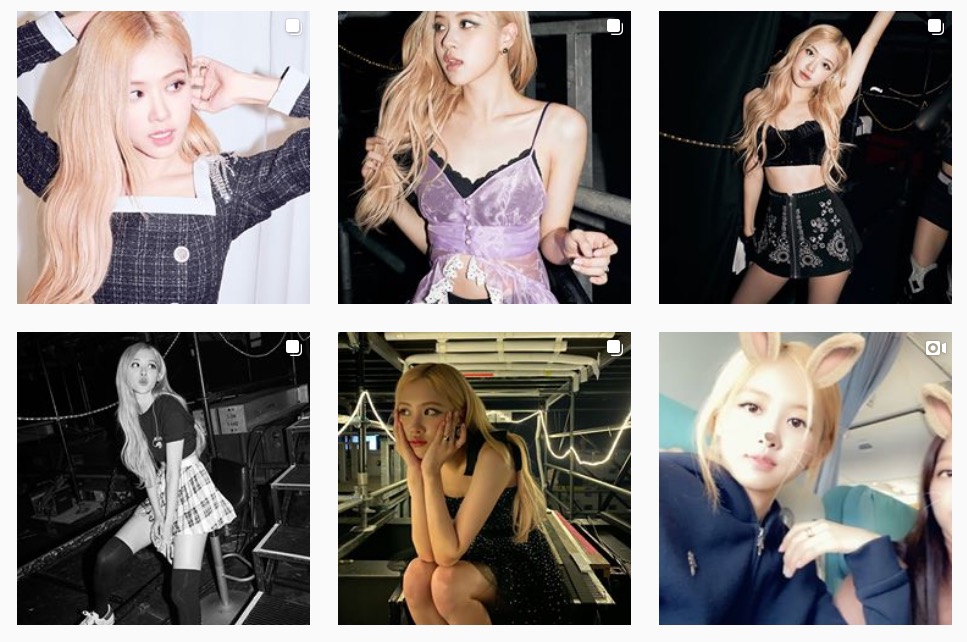 Rose was born in New Zealand but raised in Melbourne, Australia. She is the best English speaker in the group and usually is the leader when it comes to answering interview questions abroad. Her board is filled with her travels and showcases some of the best sites around the world. She is also heavily involved in fashion like the others and she has even been on the cover of VOGUE Korea.
# of posts: 672
# of followers: 40.9 Million 
Estimated cost per sponsored post: $160,000
Jisoo – BLACKPINK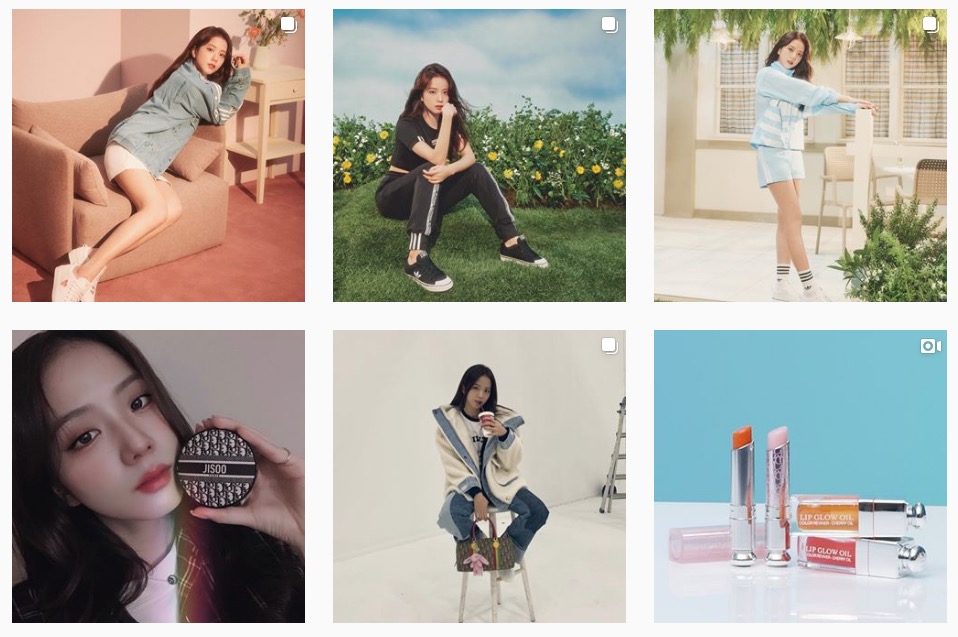 Jisoo, like the rest of her Blackpink members, brings a lot of style into their Instagram. Throughout her feed, you will see Jisoo showcase some of the latest Korean fashion and K-beauty products. She was also on the cover of VOGUE Korea! Her feed also has selfies showing her beauty to the world. She has been very active on Instagram in 2021 and uploaded more posts than the other members.
# of posts: 656
# of followers: 40.8 Million 
Estimated cost per sponsored post: $160,000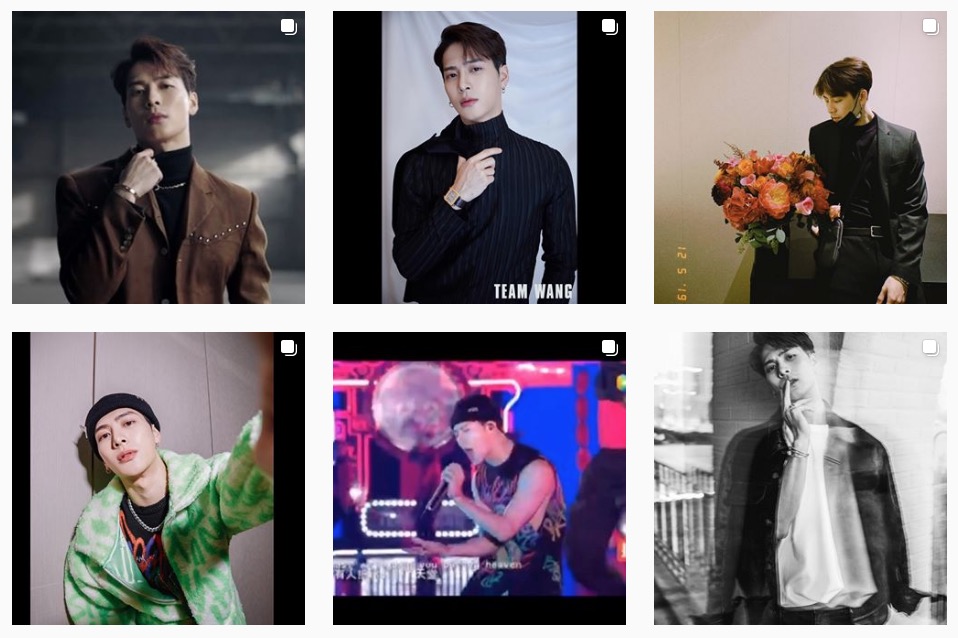 Jackson Wang is a GOT7 rapper and solo artist. He uses Instagram to update fans on his daily life and to promote GOT7 and his solo activities. During his tours, he makes it a point to bring fans in on his travels. You can tell through his feed he has a great taste for style. Those that want to follow the latest fashion trends for men, should follow Jackson's Instagram for Men's fashion tips.
# of posts: 593
# of followers: 23.7 Million 
Estimated cost per sponsored post: $140,000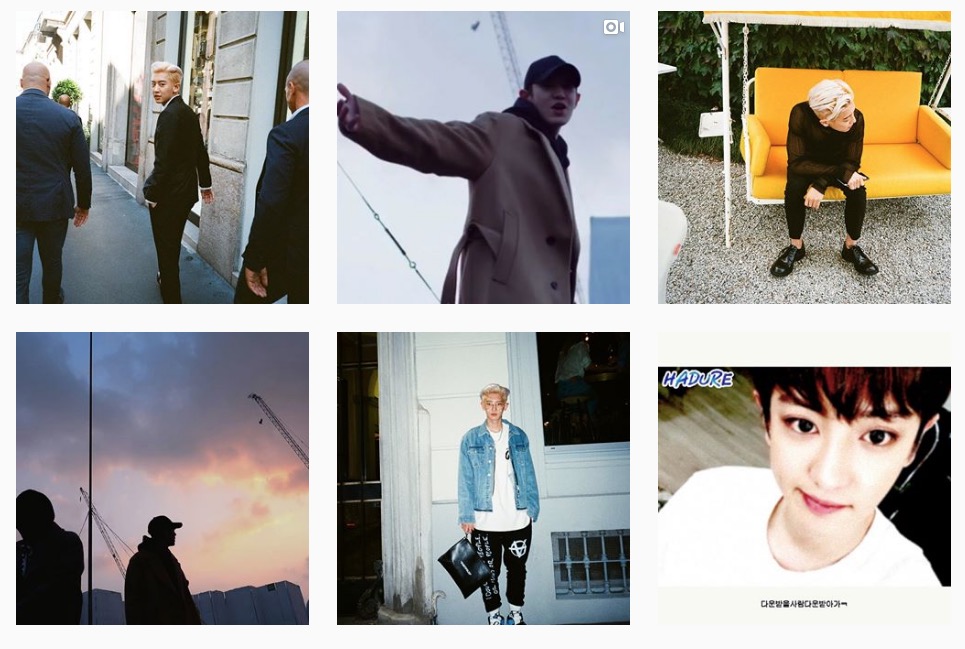 Chanyeol opened his Instagram account back in 2014. He is now the #1 Kpop male on Instagram. Before Blackpink Chanyeol had the record for having the most Instagram followers among Kpop idols. You can tell from following his feed that he is a huge fan of art and design. However, he is not as active as the others uploading to the account.
# of posts: 718
# of followers: 23.3 Million 
Estimated cost per sponsored post: $140,000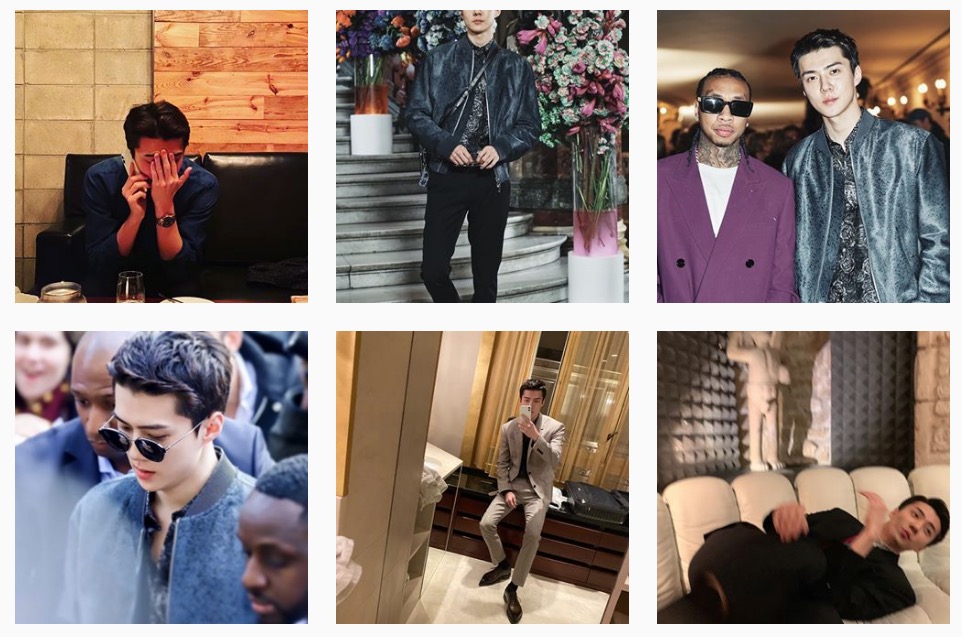 Sehun is known for being very active on his social media interacting with his fans. He offers a lot of behind-the-scenes photos of his travels. He has been known to reply to his fan's comments one by one. Every now and again you will see his love for dogs as he posts pictures of his Bichon named Vivi. His feed feels more personal and you can get a sense of who Sehun really is.
# of posts: 779
# of followers: 21.8 Million 
Estimated cost per sponsored post: $135,000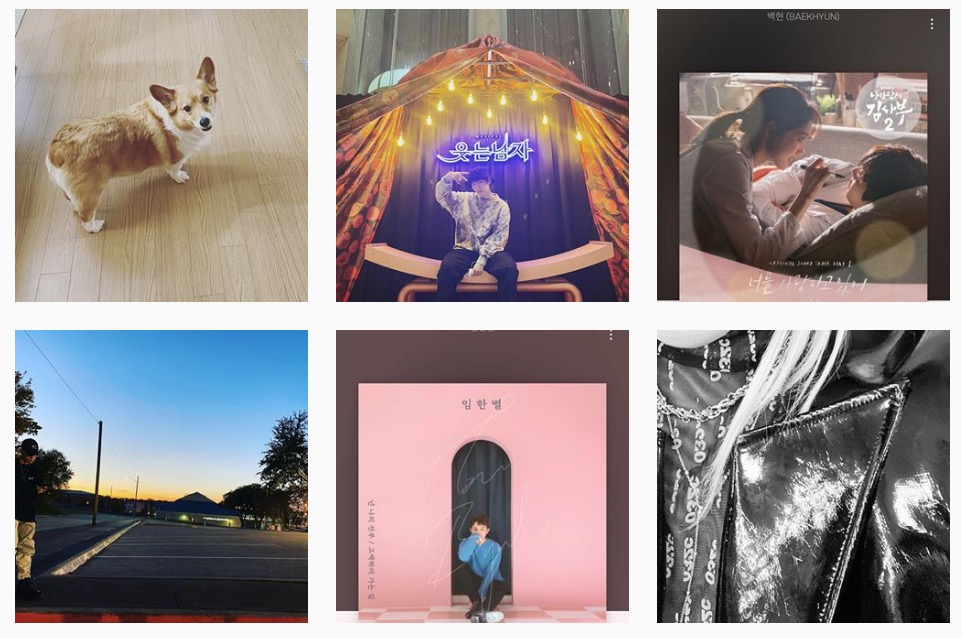 Baekyun does not post often but when he does it is usually to showcase his life. On his Instagram, you will find many selfies, photos with friends, and sometimes his pet corgi. During the holidays he is known for giving special messages to his fans. He rarely posts lately so it is a special treat when he does.
# of posts: 379
# of followers: 21.1 Million 
Estimated cost per sponsored post: $132,000
IU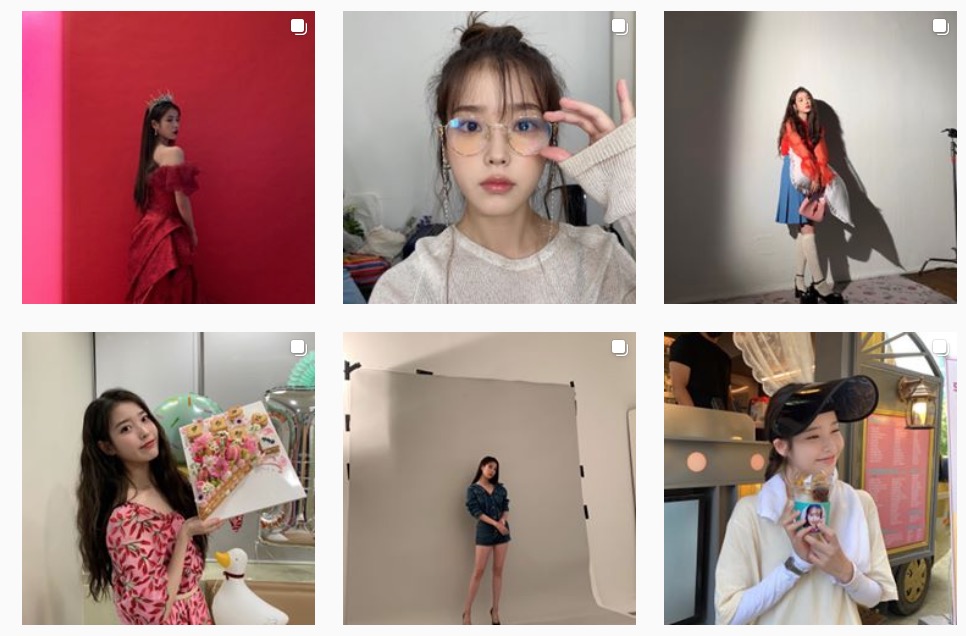 IU's Instagram account offers a glimpse into her backstage process. She not only uploads her travels but also what goes on behind the scenes. She has a cute habit of showcasing to her fans what she is drinking that day! Those interested to see what IU is working on must follow her on Instagram.
# of posts: 589
# of followers: 20.6 Million 
Estimated Cost per sponsored post: $130,000
Cha Eunwoo opened up his personal Instagram account back in early 2019. He was named as the 2019 Hot Instagrammer Male for the K-pop Radar year-End Chart. He has been able to grow a massive following on Instagram thanks to the support of not only ASTRO fans but also fans of his performances in K-dramas like True  Beauty and as a cast member on the hit Korean TV series Masters in the House.
# of posts: 204
# of followers: 20.6 Million 
Estimated cost per sponsored post: $130,000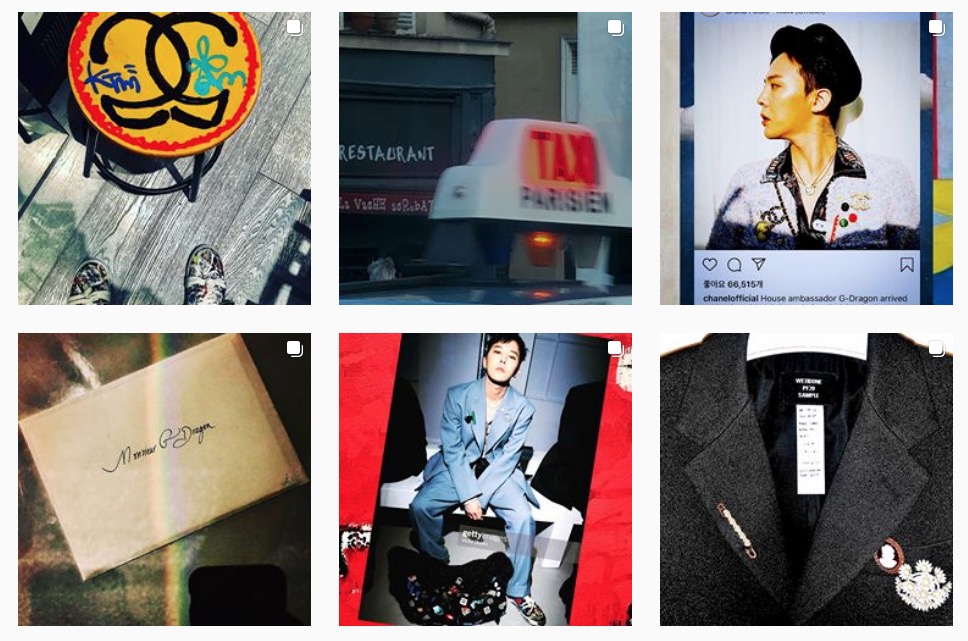 The most active Kpop star on Instagram is G-Dragon. His account was silent for a while due to his Military duties. However, since late 2019, his account has been active again. He uploads a lot of stylish pictures and even excerpts from philosophers and poets. His use of colors is absolutely amazing. He is not as active as he has been in the past but he still uploads at least one post per week.
# of posts: 2,570
# of followers: 19.8 Million 
Estimated cost per sponsored post: $130,000
HONORABLE MENTION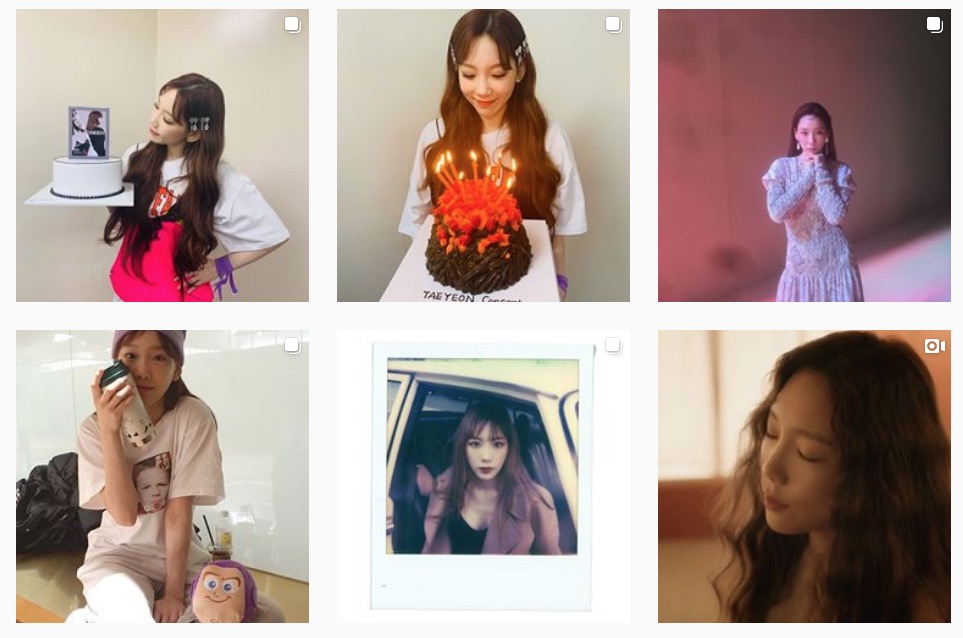 Taeyeon has the most followers on Instagram among her SNSD members. She is very active on her Instagram Story. A lot of her photos show the selfies of Taeyeon having fun and being playful. She does not post often and can go weeks between posts.
# of posts: 1,237
# of followers: 16.2 Million 
Estimated cost per sponsored post: $100,000
The Power of Instagram for Kpop Idols  
Instagram is becoming huge for the Kpop industry. It is the perfect platform for the Kpop fan. Instagram is very addictive, visually appealing, and allows fans to connect with their idols. It is unknown if Kpop Idols have full ownership of the income earned from their social media accounts or if they must share it with their Kpop Entertainment companies. Some say it is a 50/50 split while others say that a majority is in the control of the Entertainment companies. Therefore it is difficult to answer the question of how much money do Kpop Idols make from social media. Of course, this does not go for Kpop Idols who have left their Entertainment companies. 
The Kpop group that is using Instagram to its full potential are the members of BLACKPINK. They realized that many Instagram users were music-oriented compared to other social media platforms. It is a great platform to promote their music, document their daily lives, and interact with their fans. This is the reason why all four members of BLACKPINK are on this list of the top 10 Kpop Idols on Instagram. They do a great job of now just teases their newest songs and posting selfies but they let their fans into their daily lives and show their personalities. This is where Instagram Stories and Instagram Live have really come into play. 
Instagram Stories and Instagram Live a Perfect Fit for Kpop Idols 
Instagram Stories and Instagram Live are video features that were launched by Instagram a few years ago. Therefore, the Instagram Stories feature is great for making announcements and posting behind-the-scene clips. Instagram Live allows fans to get live streams from their favorite Kpop Idols. This could be streams of concerts or just casual at-home performances. BLACKPINK's Instagram Stories and Live have brought their fans closer and gave them a sense of what it might be like to hang out with them. 
All Kpop Idols should have their own Instagram Account 
Soon every Kpop Idol will end up having their own Instagram account. Kpop Entertainment companies that don't will miss out on a massive marketing machine. Instagram will be one of the top tools for self-expression and promotion in the Kpop Industry. An argument can be made that Tik Tok will at some point become the top social media platform for Kpop artists. However, for 2020, Instagram still reigns supreme. Instagram's discovery and recommendation algorithms will get smarter and the more familiar Kpop Idols become with managing their Instagram accounts the better. Look for more and more Kpop Idols on Instagram in 2020. 
Kpop Entertainment companies will need to offer tutorials and lessons on Instagram best practices. Instagram will constantly come out with new app features which will also require a digital marketing team to come up with creative strategies for marketing campaigns. Therefore, Kpop Entertainment companies need to allow their Kpop Idols to use Instagram to express themselves and connect with their fans. This will open up doors to market new albums, tours, and merchandise. In addition, digital marketers in Korea will start to see a lot of new job openings for digital marketing positions for managing Kpop Idols on Instagram. Therefore get familiar with many social media platforms because you might one day be planning marketing campaigns for your favorite Kpop star.