It is called Hallyu (The Korean Wave) and is taking over the globe at a furious pace, with K-Pop news sites getting millions of monthly views. Shockingly, Korean pop culture has grown so big that it is a major player in global culture. Some of the best Korean dramas are now on Netflix and are getting worldwide attention, as seen with the success of Squid Game. In addition, BTS was on Saturday Night Live, Parasite won multiple Oscars, including Best Picture, and K-Beauty now dominates the skincare industry. However, at the core of Hallyu is, of course, K-Pop which stands for Korean pop music.
Top 100 Kpop Stars in 2023 – Q1
K-Pop has become a global obsession with fans worldwide who can't get enough of it. Many English-based K-Pop news sites do a great job breaking the top trending news about Hallyu. There are also many people blogging about Kpop.
BTS proved to the world that K-pop could go global, and there is a high demand from fans of K-Pop all around the world that are eager to get the latest news in the K-pop industry.
K-Pop took off in 2010 and hit an all-time high in 2019, thanks to the global success of BTS and Blackpink. With their success came a legion of fans who couldn't get enough of the latest K-Pop content. Scandals, suicides, and dramas were big news during these years, and news articles have seen record-high views on many K-pop sites. Therefore, knowing where to find the latest news in K-Pop and Korean Pop culture for 2023 and beyond is important.
Here are our top 10 picks for the best English-based K-Pop news sites.
allkpop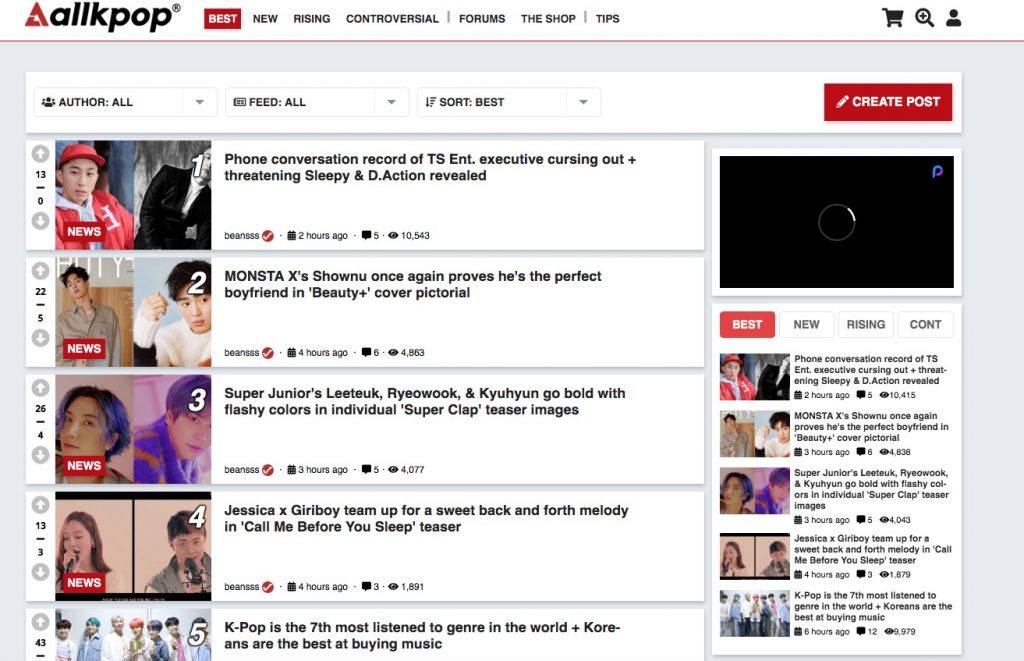 The top English-based K-Pop news site is allkpop, launched in 2007 in New York. It is the most trafficked K-pop news site in the world. Think of allkpop as the Reddit of K-pop news. The posts are organized based on reader upvotes. The feeds are constantly updated to give the latest and top trending K-pop news. Readers can rank their favorite stories and join the comment section to fully interact with the K-pop community. In addition, you can even filter the content to find the latest news, the best news, top trending (rising) news, and even controversial news.
Furthermore, the site is very easy to use and does a great job of pushing the best content to the top. The site also sells K-pop merchandise, from apparel to smartphone accessories. It is estimated that the site gets over 10 million visitors a month. The site is constantly being updated minute by minute to bring the latest news regarding the K-pop industry.
Facebook followers:  6,044,302
Twitter followers:  5.8 million
Instagram followers: 502,000
Soompi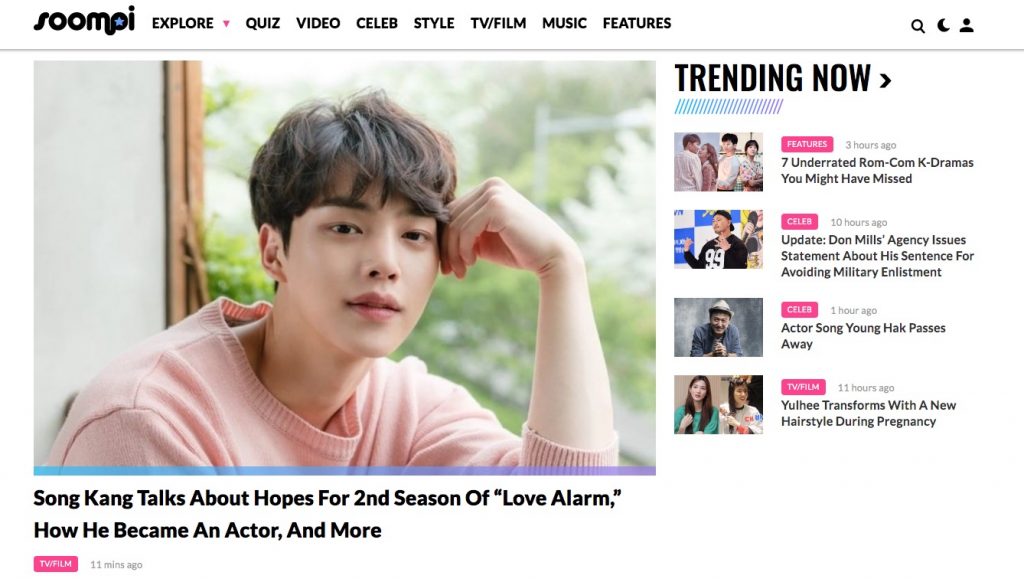 Soompi established the first K-pop community and is currently the longest-running K-Pop site. The K-Pop News site started in 1998 and covers K-Pop news, music, videos, fashion, and K-dramas. Anything and everything related to Korean pop culture. The site has a strong blog feel and offers many interviews with K-pop stars. One of our favorite sections is their Quiz section, where they quiz readers on K-Pop and K-Dramas. It has one of the largest international online communities for K-Pop and is even available in Spanish. Furthermore, they work closely with major Korean K-pop entertainment companies and agencies to create exclusive content.
They have readers from over 180 countries, and their editorial team has editors and contributors worldwide. In 2015, Soompi was acquired by Viki, Inc., a streaming video service for global TV. 
The Soompi Awards
The Soompi Awards started in 2005 by ranking the most popular songs in Korea. Then they started to do voting for fans around the world. This did not just apply to K-pop but also to K-dramas. These votes from fans were taken into account to make nominations for the Soompi Awards. Now the Soompi Awards have a long history of attracting the attention of fans worldwide. They have teamed up with FUSE.tv, a U.S. network with more than 80 million household viewers. As for the production side, Soompi cooperated with Zanybros, a music video production company.
Facebook followers:  8,554,484 
Twitter followers:  3.2 million
Instagram followers: 295,000
Koreaboo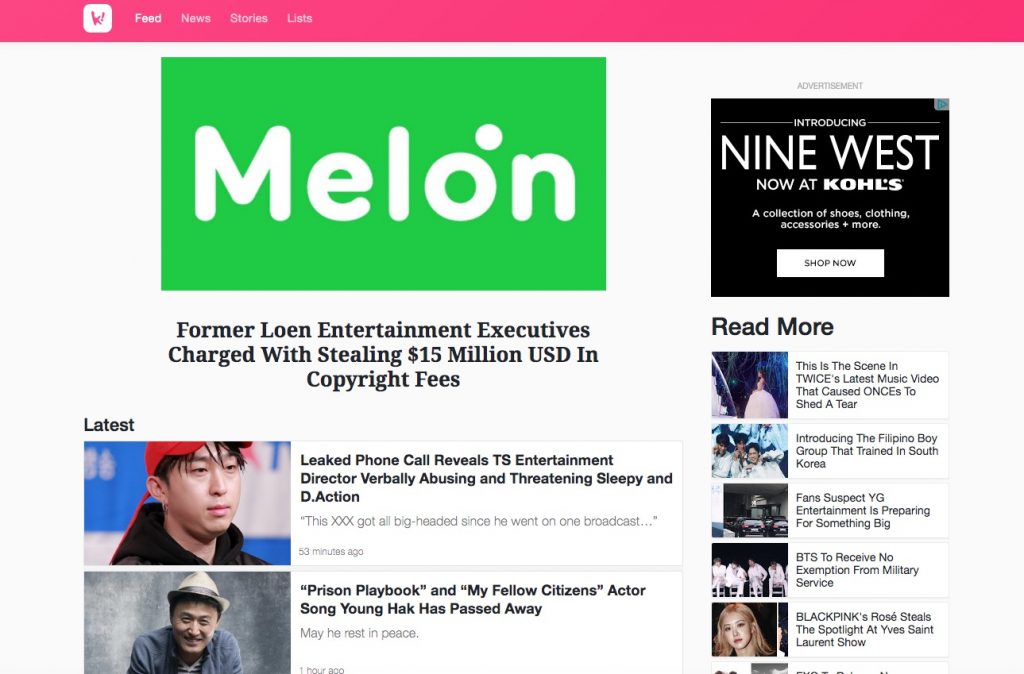 Koreaboo was created by the creators of KCON, an annual Korean wave convention held in different locations worldwide. They work closely with CJ E&M to bring the latest breaking K-Pop news, Korean viral videos, and exclusive content from K-Pop idols. The Feed, News, and Stories section is pretty much the same. However, they do a great job of constantly uploading the latest news regarding K-Pop. They have a list section with great topics such as "Top 10 Girl Group Album Sales of all Time" or "16 of BTS Jin's Most Outrageous But True Quotes".
The list section is our favorite part about Koreaboo. In addition, the site even has a forum where you can have discussions about the latest celebrity gossip or the latest in K-Pop news. It will be interesting to see where Koreaboo takes this site as it has been around a while and will soon need to differentiate its site from the others.   
Facebook followers:  7,335,079
Twitter followers:  2.2 million
Instagram followers: 265,000
KpopStarz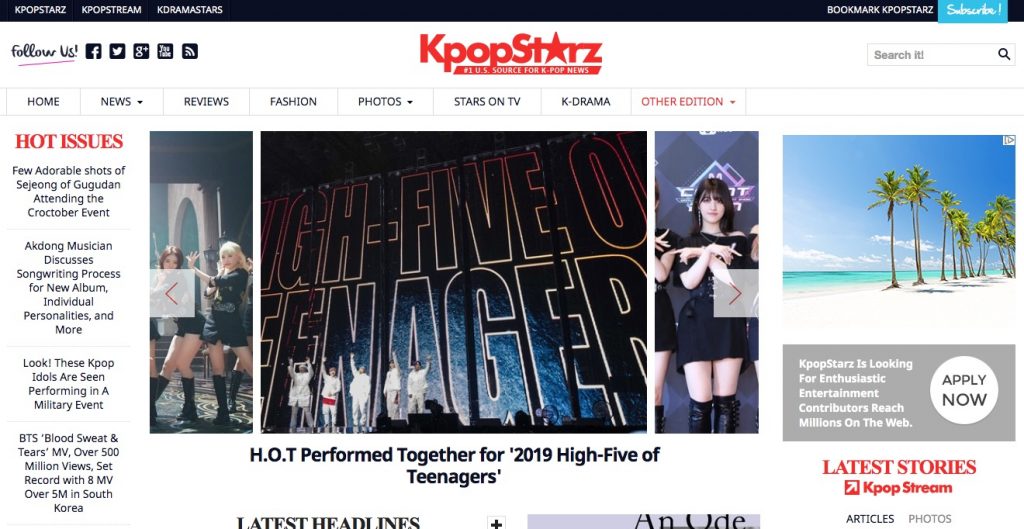 KpopStarz was launched in New York City in 2011 and is one of the top sources of K-Pop news in the United States. It is considered an unbiased news site that gives excellent quality expert reviews. They have over 20 writers on their staff who review the latest K-Pop events and album releases. Furthermore, the site also has a section dedicated to Korean fashion with articles such as "10 Must-Have Items for your Autumn Wardrobe". They also have a section dedicated to K-Dramas. KpopStarz is available in Chinese, Japanese, and Spanish. In addition, their social media presence continues to grow month after month. 
Facebook followers:  2,538,958 
Twitter followers:  142,400
Officially Kmusic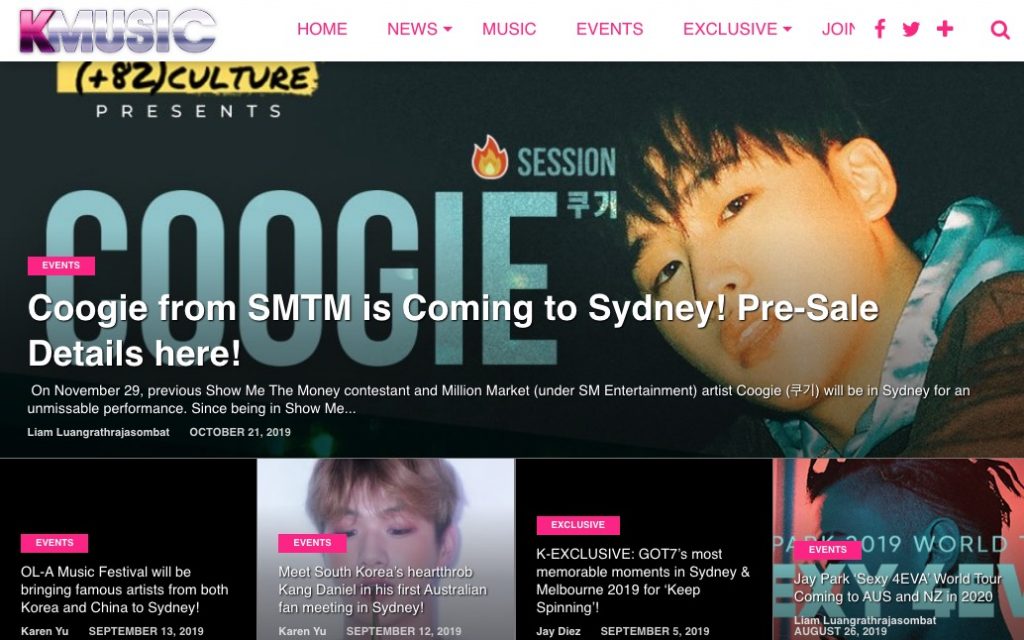 Officially Kmusic has a massive team that provides fans with the latest things regarding K-Pop. They offer fans interactives like games and quizzes. The site has a staff of over 150 people which means they have one of the best customer services here. They first started on social media. After gaining a strong, loyal following, they launched their official website. Then they began covering concerts and events around the world. Therefore, their media teams reach out across Asia to Australia, the United States, and Europe. The site is a great place to find news regarding K-Pop events and a great place to buy tickets online.  
Facebook followers:  1,075,765
Twitter followers:  17,900
Kpopmap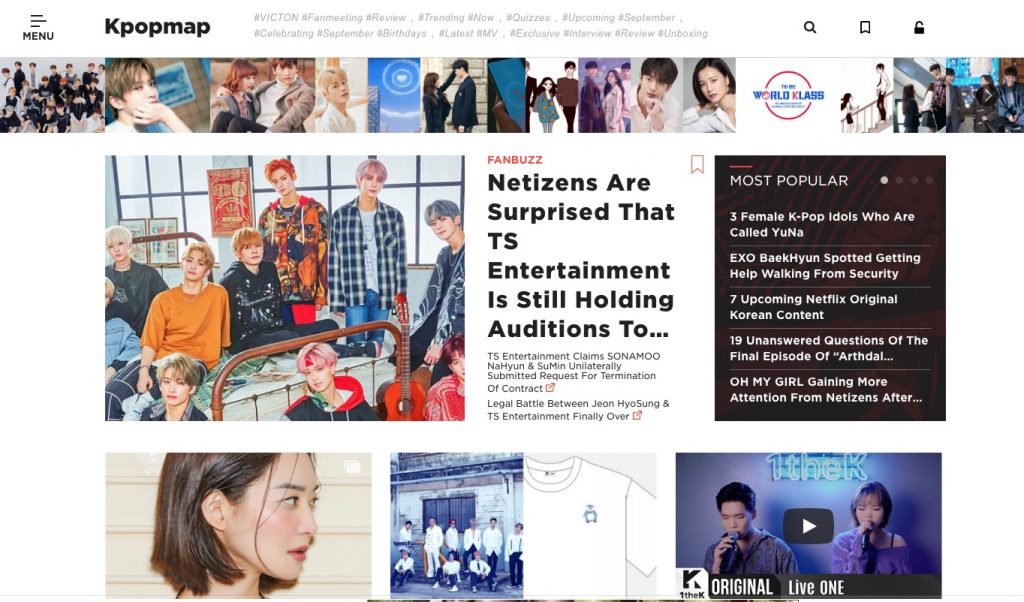 Kpopmap is based in Seoul, allowing them to get up-to-the-minute news regarding K-Pop. It is very similar to Soompi in its site layout, and they also cover K-Dramas and Korean films. You will be able to find the latest trending K-Pop music videos on their main page as well. Think of Kpopmap as a Korean pop blog where you can find a wide range of information. Furthermore, they aim to be one of the leading websites on global culture.  
Facebook followers:  1,170,014
Twitter followers:  11,700
Knetizen 
Knetizen is a very active Kpop news site that translates comments about Kpop Idols from Pann, Naver, Nate, Instiz, and Theqoo. Therefore they don't write their content. However, they can produce a lot of content based on the actions/comments of Kpop fans on these platforms.
HELLOKPOP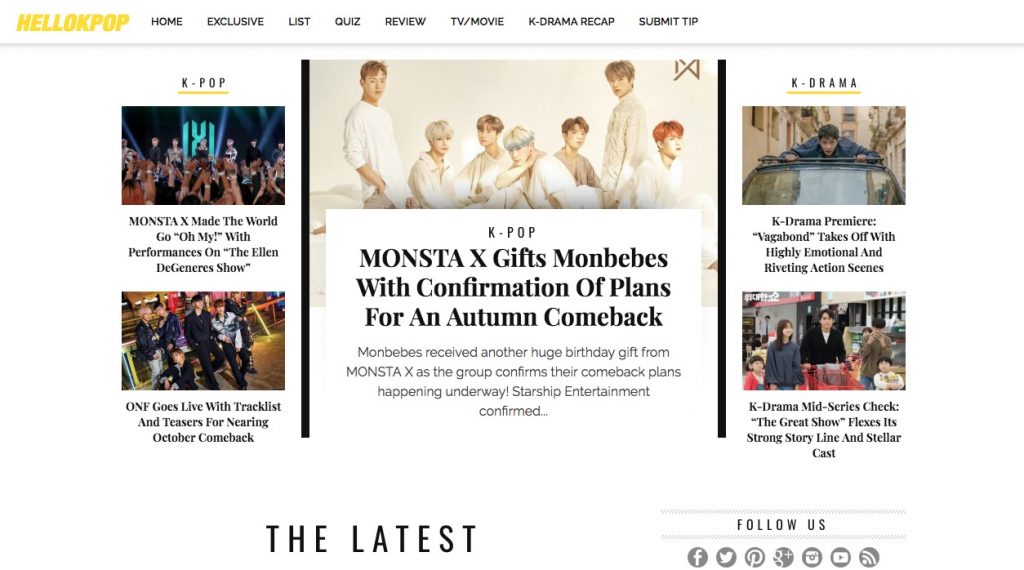 HELLOKPOP does a great job of spreading Korean entertainment news, not just K-Pop news, to readers worldwide. The site was founded in 2010 and had many engaging and entertaining articles about Korean entertainment.  They do concert recaps and exclusive interviews with K-Pop groups. Their list section offers interesting topics such as "8 K-Pop Male Idols and their Iconic High Notes that Slayed Our Entire Existence." Their quiz section is just as good. The site provides in-depth reviews and analyses for those interested in K-Dramas and Korean films. Therefore, we recommend their K-drama recaps to catch up on missed episodes.  
Facebook followers:  195,832
Twitter followers:  22,400
KPOPCHANNEL.TV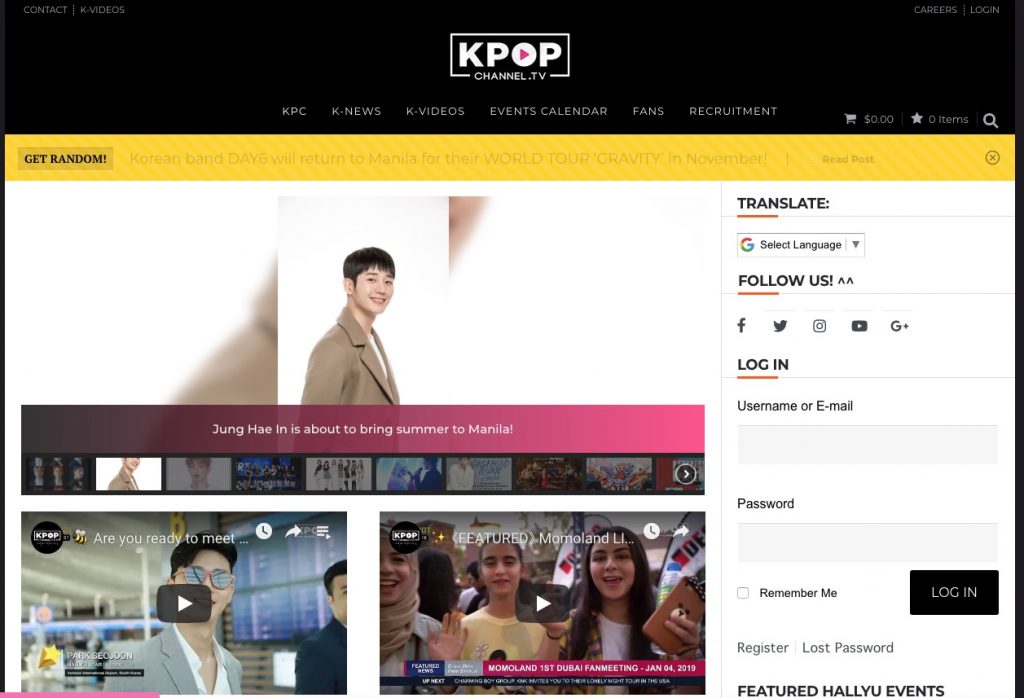 Kpopchannel.tv is a government-licensed global news site. It also has a 24/7 TV channel that airs internationally through digital cable, mobile, and satellite. They focus mainly on K-Pop, celebrities, films, and Korean culture. They have correspondents from over 20 countries. The site offers K-pop giveaways and contests where you can win such prizes as concert tickets and signed albums. Furthermore, they are very active on social media and even have their own YouTube Channel. 
Facebook followers:  94,944
Twitter followers:  7,401
Instagram followers: 2,966
KPOPLOVE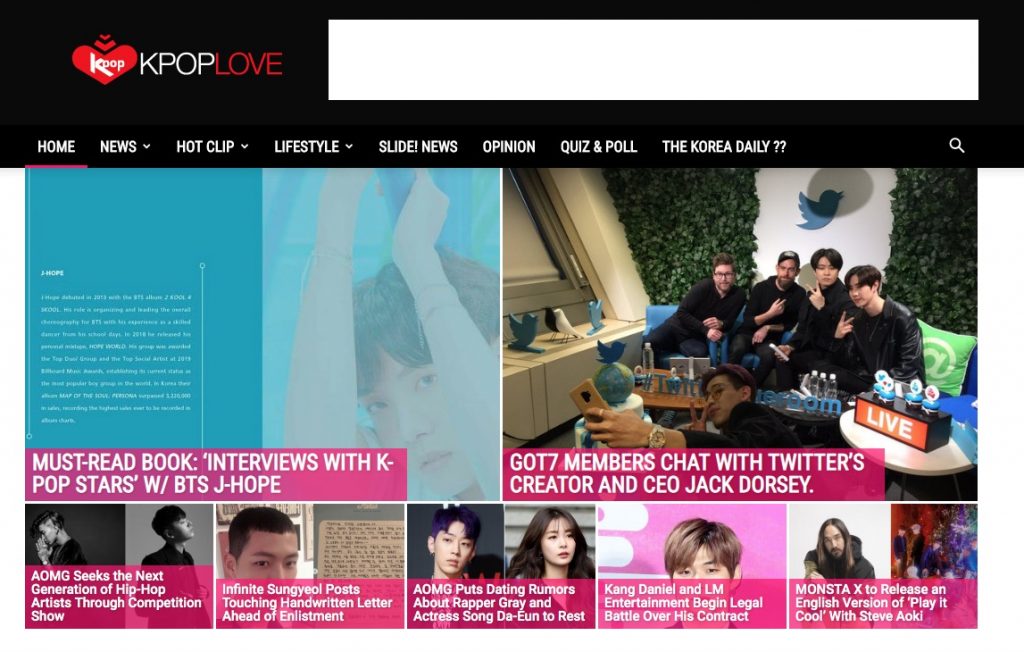 KpopLove is affiliated with The Korea Daily, the #1 most-read Korean-American newspaper. The focus is on fast yet accurate K-pop news. They do have an opinion section on their site. They also offer a voting section where K-pop fans can vote on topics such as "Which of these four male K-pop idols is the most savage." Furthermore, since they have the support of The Korea Daily, it will be interesting to see how much support they put behind this niche site. 
Facebook followers:  16,597
Twitter followers:  413