Kpop is taking to social media in a very big way. All of the top Kpop Idols on Instagram have massive followings. BTS and BLACKPINK have proved that social media channels like YouTube, Twitter, and Instagram are the best ways to go global. Korean startups can learn a lot from how many Kpop entertainment companies are using these global social media platforms. Many Kpop entertainment companies train their artists on how to manage their social media channels. Many big idol groups like Big Bang, EXO, SNSD, BTS, and BLACKPINK have their own social media accounts. It is a part of the entertainment company's marketing strategy and a way for idols to connect with their fans.
This article will focus on Instagram and the top Kpop Idols on Instagram. However, it is unknown if the Kpop idols fully own their social media accounts or if it is owned by their Kpop Entertainment company. If they are owned by the Kpop Entertainment company then they will have the final say in what can be promoted on the platform. 
Lisa – BLACKPINK – The Top Kpop Idol on Instagram

Lisa is the top K-pop star on Instagram and she is not even Korean! This goes to show that non-Koreans can make it in the world of Kpop. Lisa is the "maknae" of BLACKPINK and is known for her incredible dancing skills. She was born in Bangkok, Thailand to a Korean mother and a half-Thai, half-German father. Lisa began training with YG Entertainment when she was just 14 years old, making her the youngest member of the group.
Her real name is Lalisa Manoban and Lisa is credited with helping her other Blackpink members with their own Instagrams. She has been heavily involved with fashion and beauty and her Instagram feed is proof of that. Her Instagram really shows off her sense of style! Lisa officially passed the 50 million followers mark back in April of 2021 and is now going for 80 million.
# of posts: 849
# of followers: 78.4 Million 
Estimated cost per sponsored post: $200,000

While Lisa is #1 on Instagram, the other members on Blackpink are right behind her. This goes to show just how passionate BLINKs (Blackpink fans) really are.
Jennie was born in Anyang, Gyeonggi Province, South Korea on January 16, 1996. Her family consists of her parents and an older sister. Jennie attended Hershey Park Elementary School and later transferred to Apgujeong High School.
During her second year of high school, she was scouted by YG Entertainment after being recommended by a friend. After going through several auditions, she became a trainee in August 2010. Jennie made her official debut as a member of BLACKPINK in August 2016 with the single album "Square One".
In November 2018, Jennie made her solo debut with the single "SOLO". The song debuted at number 1 on the Gaon Digital Chart, making Jennie the first female K-pop solo artist to do so since 2007.
Jennie comes in at #2 on this list. She also has a secondary account called lesyeuxdenini which she uses to showcase her personal photography account. Her main account does a great job of showing a behind-the-scenes look at her work and life. She always uploads while she is shooting her next video so it is a must to follow her if you are a fan of Blackpink.
# of posts: 854
# of followers: 67.2 Million 
Estimated cost per sponsored post: $170,000
Jisoo – BLACKPINK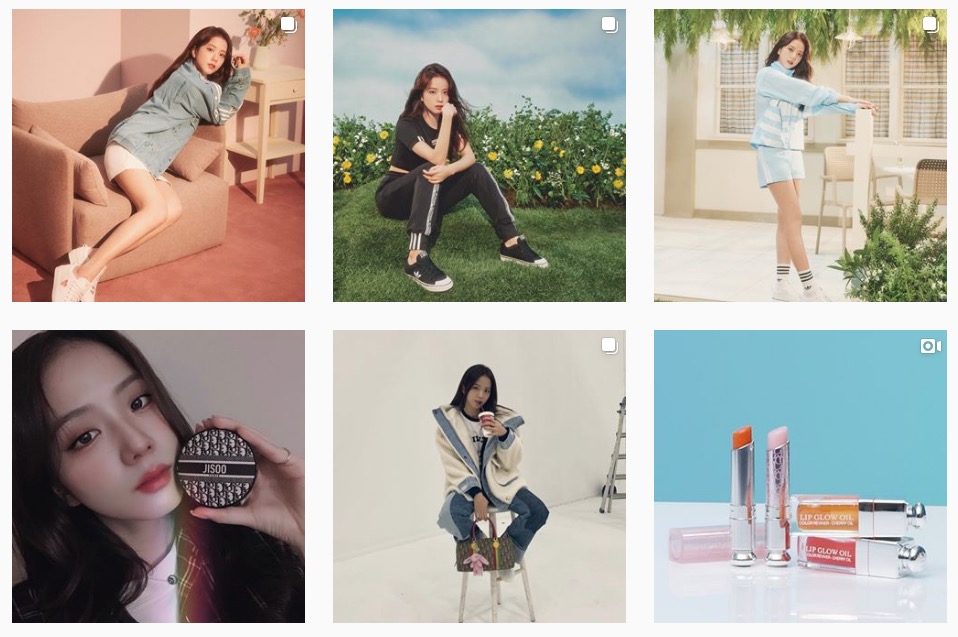 Jisoo, like the rest of her Blackpink members, brings a lot of style to their Instagram. Throughout her feed, you will see Jisoo showcase some of the latest Korean fashion and K-beauty products. She was also on the cover of VOGUE Korea! Her feed also has selfies showing her beauty to the world. She has been very active on Instagram in 2021 and uploaded more posts than the other members.
Born on January 3, 1995, Jisoo is the eldest member of the group. She was born in Gunpo, South Korea, and moved to Auckland, New Zealand when she was 10 years old. She lived there for five years before returning to South Korea to pursue her dream of becoming a singer.
Jisoo made her debut with BLACKPINK in 2016 and has since established herself as one of the most popular members of the group. She is known for her bubbly personality and her stunning visuals. In addition to her work with BLACKPINK, Jisoo has also appeared in a number of variety shows and dramas. You can see some behind the scene posts on her Instagram!
# of posts: 819
# of followers: 61.1 Million 
Estimated cost per sponsored post: $160,000
Rose – BLACKPINK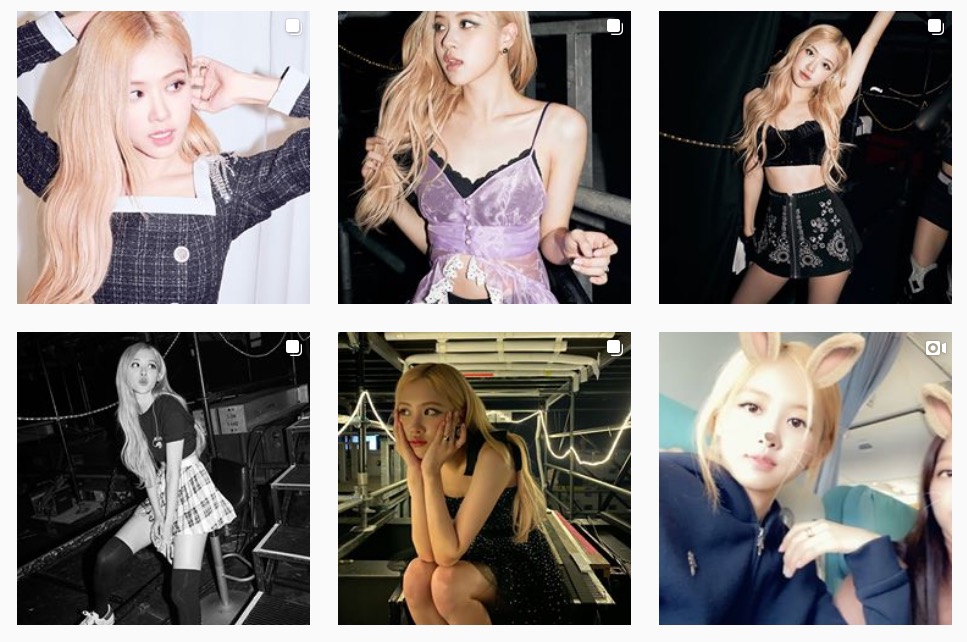 Rose (로즈) is a South Korean singer and rapper under YG Entertainment. She is the main vocalist and lead dancer of the girl group BLACKPINK. Rose was born Park Chae-young on February 11, 1997 in Auckland, New Zealand, to Korean parents. When she was five years old, her family moved back to South Korea. She has an older sister named Alice.
Rose began her musical training at a young age and was a student at the Kiwi Kids music school in New Zealand. She later attended the Korean Music High School in Seoul. In 2012, she auditioned for YG Entertainment and signed with the company that same year.
She is the best English speaker in the group and usually is the leader when it comes to answering interview questions abroad. Her board is filled with her travels and showcases some of the best sites around the world. She is also heavily involved in fashion like the others and she has even been on the cover of VOGUE Korea.
# of posts: 810
# of followers: 59.9 Million 
Estimated cost per sponsored post: $160,000
V – BTS
BTS members were allowed to open their Instagram accounts for 2022. V has the most followers and broke two records for his Instagram debut. He was the fastest Instagram user to pass 1 million followers and the fastest to pass 10 million followers and so on.
He was born on December 30, 1995, in Daegu, South Korea. V began his musical career as a trainee with Big Hit Entertainment in 2011. He made his official debut with BTS in 2013.
V is known for his unique and powerful vocal style. He has a wide range, which allows him to sing both high and low notes. V also has a great ear for music, which helps him to harmonize well with the other members of BTS. In addition to his vocals, V is also a talented rapper. He often writes his own rap lyrics, which are often full of emotion and creativity.
# of posts: 48
# of followers: 43.5 Million 
Estimated cost per sponsored post: $150,000
Jungkook comes in 2nd among the BTS members with the most Instagram followers. He so far has shared pictures of his dogs and his life during the pandemic. Jungkook was born on September 1, 1997, in Busan, South Korea. He has an older brother. Jungkook's father is a CEO and his mother is a housewife.
Jungkook began learning guitar and drums when he was in elementary school. In middle school, he joined Big Hit Entertainment (now HYBE) as a trainee.
# of posts: 36
# of followers: 40.9 Million 
Estimated cost per sponsored post: $150,000
You can tell that Jimin is going to be a fun member of BTS to follow on Instagram. He does not have a lot of posts so far but from what he has posted so far, expect a lot of variety and beauty.
Born on October 13, 1995, in Busan, South Korea, Jimin began his musical career as a street dancer before joining Big Hit Entertainment as one of the label's first seven trainees in 2010.
A gifted dancer, Jimin has choreographed several of BTS's dance routines, including the group's famous "DNA" dance. He has also composed and produced several of the group's songs, including the 2016 hit "Blood Sweat & Tears."
# of posts: 16
# of followers: 36.1 Million 
Estimated cost per sponsored post: $150,000
J-Hope was born on February 18, 1994, in Gwangju, South Korea. His birth name is Jung Hoseok. He has an older sister named Jung Da Eun. J-Hope has released one solo mixtape, "Hope World", which debuted at number 63 on the Billboard 200 chart.
As a member of BTS, J-Hope has won numerous awards, including the MTV Video Music Award for Best K-Pop group in 2018 and the Billboard Music Award for Top Social Artist in 2019.
J-Hope is known for his positive and optimistic personality. He is also known for his strong dancing skills and his ability to write and produce his own songs.
J-Hope is one of the most active members on BTS when it comes to Instagram posts. You can tell by many of his posts that there is a strong artistic side to J-Hope and hopefully he will show more of his life through the platform.
# of posts: 93
# of followers: 35.8 Million 
Estimated cost per sponsored post: $150,000
Jin was born on December 4, 1992, in Gwacheon, South Korea. His full name is Kim Seokjin. He has an older brother named Kim Seokjung.
Jin attended Konkuk University where he studied acting. Some of Jin's hobbies include playing video games and cooking. He also enjoys reading, and his favorite book is The Catcher in the Rye. His favorite color is pink, and he has said that his ideal type of girl is someone who is caring and good at cooking.
Jin is going to have a lot of fun with Instagram as so far he has posted delicious meats/dishes, and behind-the-scenes photos. You can also tell by some of the posts Jin's humorous side.
# of posts: 46
# of followers: 35.7 Million 
Estimated cost per sponsored post: $150,000
Cha Eunwoo is a South Korean singer and actor. He is best known as a member of the boy group ASTRO. He was born on March 30, 1997, in Seoul, South Korea. Eunwoo attended Hanlim Multi Art School and graduated in February 2016. Eunwoo made his acting debut in the web drama "To Be Continued" in 2015. He has also appeared in other dramas such as "My ID is Gangnam Beauty" (2018) and "Rookie Historian Goo Hae Ryung" (2019). He also made his solo debut with the mini-album "Daydream" in 2019.
Cha Eunwoo opened up his personal Instagram account back in early 2019. He was named the 2019 Hot Instagrammer Male for the K-pop Radar year-End Chart. He has been able to grow a massive following on Instagram thanks to the support of not only ASTRO fans but also fans of his performances in K-dramas like True  Beauty and as a cast member on the hit Korean TV series Masters in the House.
# of posts: 294
# of followers: 28.6 Million 
Estimated cost per sponsored post: $140,000
HONORABLE MENTION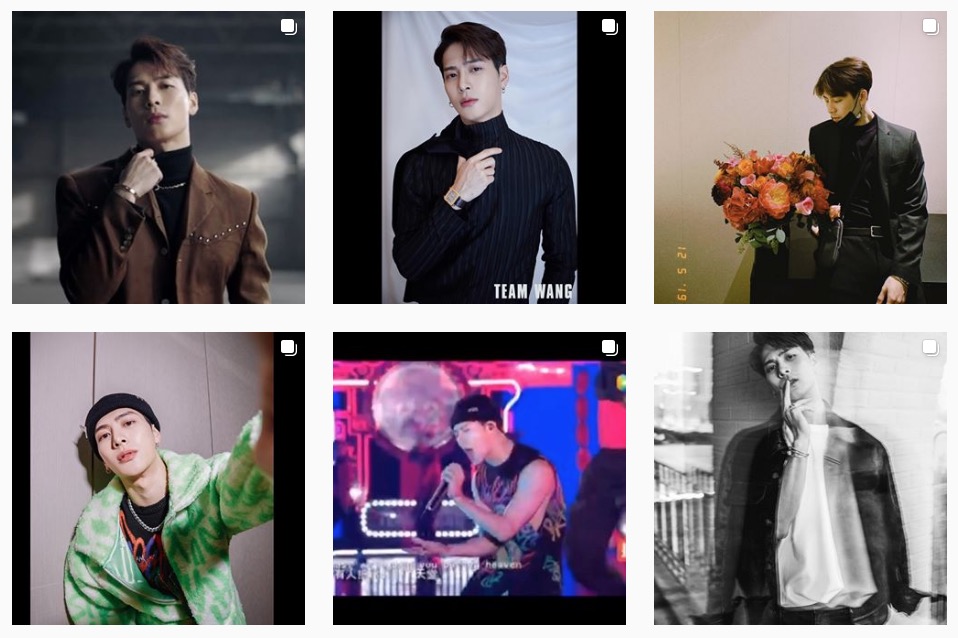 Jackson Wang (Chinese: 王嘉尔; born March 28, 1994) is a Hong Kong rapper, singer, and dancer based in South Korea. He is a member of the boy group Got7.
Wang was born and raised in Hongkong. His father is an athlete who was once ranked 14th in the world for badminton. Jackson was a fencing athlete and represented Hong Kong in the Asian Junior Games. He also competed in other competitions such as the Asian Cadet Fencing Championships and the Hong Kong fencing championships. Jackson's dream was to become an Olympic champion.
However, Jackson's father wanted him to pursue a career in music instead and that was great advice. He uses Instagram to update fans on his daily life and to promote GOT7 and his solo activities. During his tours, he makes it a point to bring fans in on his travels. You can tell through his feed he has a great taste for style. Those that want to follow the latest fashion trends for men, should follow Jackson's Instagram for Men's fashion tips.
# of posts: 569
# of followers: 28.5 Million 
Estimated cost per sponsored post: $140,000
The Power of Instagram for Kpop Idols  
Instagram is becoming huge for the Kpop industry. It is the perfect platform for the Kpop fan. Instagram is very addictive, visually appealing, and allows fans to connect with their idols. It is unknown if Kpop Idols have full ownership of the income earned from their social media accounts or if they must share it with their Kpop Entertainment companies. Some say it is a 50/50 split while others say that a majority is in the control of the Entertainment companies. Therefore it is difficult to answer the question of how much money Kpop Idols make from social media. Of course, this does not go for Kpop Idols who have left their Entertainment companies. 
The Kpop group that is using Instagram to its full potential are the members of BLACKPINK. They realized that many Instagram users were music-oriented compared to other social media platforms. It is a great platform to promote their music, document their daily lives, and interact with their fans. This is the reason why all four members of BLACKPINK are on this list of the top 10 Kpop Idols on Instagram. They do a great job of now just teasing their newest songs and posting selfies but they let their fans into their daily lives and show their personalities. This is where Instagram Stories and Instagram Live have really come into play. 
Instagram Stories and Instagram Live a Perfect Fit for Kpop Idols 
Instagram Stories and Instagram Live are video features that were launched by Instagram a few years ago. Therefore, the Instagram Stories feature is great for making announcements and posting behind-the-scene clips. Instagram Live allows fans to get live streams from their favorite Kpop Idols. This could be streams of concerts or just casual at-home performances. BLACKPINK's Instagram Stories and Live have brought their fans closer and given them a sense of what it might be like to hang out with them. 
All Kpop Idols should have their own Instagram Account 
Soon every Kpop Idol will end up having their own Instagram account. Kpop Entertainment companies that don't will miss out on a massive marketing machine. Instagram will be one of the top tools for self-expression and promotion in the Kpop Industry. An argument can be made that Tik Tok will at some point become the top social media platform for Kpop artists. However, for 2022, Instagram still reigns supreme. Instagram's discovery and recommendation algorithms will get smarter and the more familiar Kpop Idols become with managing their Instagram accounts the better. Look for more and more Kpop Idols on Instagram in 2022. 
Kpop Entertainment companies will need to offer tutorials and lessons on Instagram best practices. Instagram will constantly come out with new app features which will also require a digital marketing team to come up with creative strategies for marketing campaigns. Therefore, Kpop Entertainment companies need to allow their Kpop Idols to use Instagram to express themselves and connect with their fans. This will open up doors to market new albums, tours, and merchandise. In addition, digital marketers in Korea will start to see a lot of new job openings for digital marketing positions for managing Kpop Idols on Instagram. Therefore get familiar with many social media platforms because you might one day be planning marketing campaigns for your favorite Kpop star.